Nov 19, 2014
Comments Off

on 10 Coziest Restaurants to Warm You Up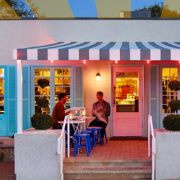 With temperatures dropping below 45 degrees, it's time to break out the oversized winter jackets, light up the fireplaces we only get to use  a few times a year, and take advantage of the coziest restaurants in Austin! We looked for restaurants that offered some form of comfort food, an intimate atmosphere, and hopefully a fireplace to warm you up. After surveying our friends and readers, here's our list of the 10 coziest restaurants to eat at in Austin during the winter months.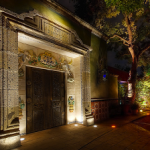 1. Fonda San Miguel: Nestled between Rosedale and Allandale, in north central Austin, Fonda San Miguel offers the best interior mexican food in town. With colorful artwork on the walls, tropical plants, intimate lighting, and some of the most flavorful smells in Austin, there's a reason we made this restaurant the coziest restaurant in Austin. A great spot to warm you up from the winter gloom, Fonda San Miguel not only offers an amazing dinner menu but one of the best Sunday brunches in Austin. Website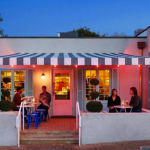 2. Elizabeth Street Cafe: A modern take on french vietnamese food, there's nothing like a big bowl of Pho to warm you up on a cold day or night. Located off South First Street, this restaurant is the definition of cozy. With a semi open kitchen, tables intimately placed close together, and warm accents of light, you're drawn in to Elizabeth Street Cafe from the second you walk in. My favorite thing to order while there are their pork belly steamed buns, a keffir lime fried chicken bahn mi to share, and a chicken thigh & cilantro lime meatball bowl of pho.  Website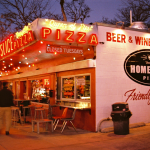 3. Home Slice Pizza: What's cozier than grabbing pizza and beer on a cold, rainy night in Austin? That's why Home Slice Pizza is the perfect spot to head to with a group of friends when you're looking for some comfort food on a cold night. The warm smells of pizza, and the energy of the people, instantly warm you as you walk in this place. My favorite meal at Home Slice is sharing the family style pear gorgonzola salad, warm garlic knots, a pepperoni mushroom pizza, and a Brooklyn Lager.   Website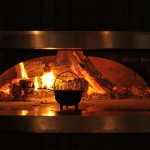 4. Roaring Fork: Located in the heart of downtown Austin, Roaring Fork is lit by the glow of the neon lights from the Paramount Theatre from the outside and a warm fire from the inside. With the windows looking out over Congress Ave., it's a great spot to enjoy happy hour appetizers and a great opportunity to fit in a little people watching as they head to the theatre. Offering an oversized fireplace, with warm Texas stone accents, this is a great restaurant to head to if you're if the mood for wood-fired western-influenced flavors. With one of the best kettles of green chili pork, you won't want to leave once you find yourself getting cozy at the Roaring Fork. Website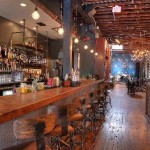 5. Swift's Attic: One of the coziest spots on Congress Ave., Swift's Attic is situated above the Elephant Room in a historical building that was built in 1905. A climb up the steep stairs takes you to a warm wooden space with dimly lit lights and exposed brick walls where people are sipping on on craft cocktails and nibbling on small plates of the best farm to table creations in Austin. Described as "creative, whimsical, and delicious", Swift's Attic definitely has a romantic and intimate vibe to it. With dishes meant to be shared, you can't help but cozy up with your date and enjoy the atmosphere.  Website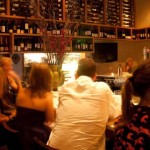 6.  Mulberry: The smaller the space, the more cozy and intimate the experience. If this is the rule, then Mulberry offers one of the coziest dining experiences in Austin. Located at the bottom of the 360 Condos, in downtown Austin, Mulberry offers one of my favorite winter meals – meatball soup, in a white wine  and lemon broth, with a hamburger with a fried egg on top. While it seems heavy, if split with somebody, this meal is perfect for the soul. With a great wine list, Mulberry is a great spot to sit the bar that overlooks the kitchen and strike up a conversation with the server. Website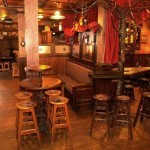 7. Fado's Irish Pub: While Austin is not as cold as Ireland, it's just fun to sit in a pub eating good food and drinking until you can't feel the cold! I believe this to be one of the most overlooked restaurants in the Warehouse district. With plenty of nooks to get lost in, and a great fireplace to cuddle up next to, Fado's offers a extensive Irish menu with a modern flares. Situated across the street from the gay bars, I encourage you to explore this cozy spot if you're looking for a place to eat before heading out or to watch a European futbol match. Website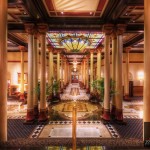 8. Driskill Hotel Bar: A historical landmark in Austin, this beautiful hotel has one of the coziest bars in town. It's grand entrance with its oversized columns, stained glass, and texas accents lead you straight up to their bar. Built in 1886, this bar epitomizes Texas luxury. Filled with oversized leather couches, a grand piano, fireplace, and ornate wood carvings, the best thing about the Driskill Bar is their happy hour prices and entertainment schedule. They always have soulful music playing and if you visit between 5 and 7 p.m., you can choose from a great selection of happy hour entrees. Website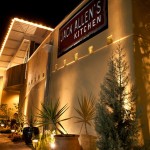 9. Jack Allen's Kitchen: A little off the beaten path from downtown Austin, Jack Allen's Kitchen was described by a friend as "the place to go for cooked organic season deliciousness." Thanks Jimmy! A staple in the community for its farm to table comfort food, here you'll find refined Southern-inspired flavors. Filled with soulful artwork and amazing culinary creations, you'll find people flocking to Jack Allen's Kitchen for dinner and Sunday brunch where tex-mex meets southern cooking. All the energy and creativity that comes from this restaurants has landed it as one of the coziest places to eat in Austin during the winter.  Website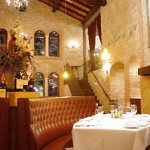 10. Siena Ristorante Toscana: To me, there's nothing more comforting and cozy than a big dish of warm pasta when it's cold outside. Throw in a cozy Italian styled villa with fireplaces and I'm at home. Located in Northwest Austin, at the intersection of 2222 and 360/Capital of Texas Highway, you'll find some of the best homemade pasta dishes in Austin. With plenty of options between their small plates, half portions, and full dishes, Siena Ristorante Toscana is 100% worth the drive to find a a cozy spot when it's cold in Austin! Website
While the list could go on and on, other restaurants that almost made the "coziest restaurants in Austin" include: Due Forni, Hoover's Cooking, NXNW, Moonshine, Threadgill's, Matt's El Rancho, Shady Grove, Blue Dhalia, Daruma Ramen on 6th, Pho at 888, Texas Chili Parlor, and Texas Land & Cattle.