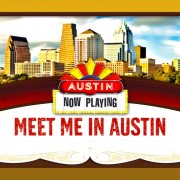 Here are 10 things you should know when moving to Austin, Texas. Your first year in a new city can be confusing. Hopefully these tips will shed some light on what to expect when moving to town. 
1. If you're going to be driving in Austin, you should know the four major roads make a Tic-Tac-Toe grid like this #. MoPac is on the West side, I-35 is on the East side, Ben White is on the South side, and 183 is on the North side of the Urban Core. This is how I visualized the roads to get a feel for where I was in town.
2. If you feel like all the roads have two different names in Austin, you're absolutely correct. MoPac is the same as Loop 1. Research Boulevard is the same as 183. Ben White is the same as 290/71.
3. Congress Ave. divides East from West, not I-35. Lady Bird Lake (also known as Town Lake) divides North from South.
4. The weather actually does get cold in the winter in Austin. It's not uncommon to get freezing temperatures in late December, January, or February. You're first summer, you may feel like you're living in hell. Don't worry…it gets better. Your blood thins out.
5. Austin is a very dog-friendly city. In the summer months, you'll see dogs EVERYWHERE. Just make sure to pick up your dogs poop or people will call you out!
6. Don't drink and drive! Downtown has a lot of one way streets and you will probably make a wrong turn if you're drinking and driving within the Downtown area. The police don't mess around in Austin when it comes to drinking and driving. It costs more than $11,000 if you get a DUI. A taxi typically costs $5-$15 bucks depending on how far you are from town.
7. Austin is the city of friendships and it's one of the most social cities in the country. Making friends and networking can get you most of the things you need to be happy in town- jobs, drinks, dates, ect.
8. Things are a little more laid back in Austin. If you feel like things aren't moving as quickly as you'd like (waiters/waitresses, traffic, pedestrians), don't worry…you'll eventually relax and join the laid back Austin culture.
9. People are very friendly in Austin. If you find a stranger talking to you, they're not trying to get anything. They are just making small talk and being friendly.
10. Although Austin is a fashionable city, it's still a very comfortable city. You can typically wear shorts and flip flops to most places in Austin.
Want to learn more about what to expect while living in Austin? Follow us on Facebook or Twitter!
Photo Credit: Austin Postcard