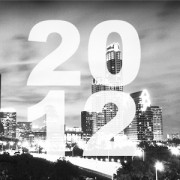 With the start of 2012, it's time to look into the new year with optimism. Use this year to get rid of things you don't enjoy in your life, add only the things you do, and build a life that you love to live. When you change the way you look at things, the things around you will change. I wish you a happy New Year, a successful 2012, and the strength and power to accomplish all you wish for.
Love the City You Live In.
If you have been dreaming of moving to a new city, 2012 may be the year for you to make the move! Life is too short and you deserve to enjoy every aspect of the city you live in. The weather, people, attitudes, and overall culture impact your life and daily happiness. If you just enjoy the city you live in, but need a little change, then remember that change starts with you. Get involved, switch up your routine, and meet new people. It's the small, simple, changes that can have the most impact on your life. Are you thinking about moving to Austin?
Love the Job You Have.
First off, if you have a job be very thankful. There are a lot of people out there that have been going on interviews for months and can't find a job. Although you may not love your job, it's a job. If you're looking for a new job in the new year, now is the time to hit the ground hard. Companies tend to do more hiring at the beginning of the year and you have less competition. If you're looking to make a career change, think of the times in your life you have been happy. Think about the things you were doing. Your goal is to combine your passion with a job that will pay you money to do what you love. I discovered this website on life purpose in 2011 and this helped me realign my life so I was doing things I enjoyed. If you're ready to find a new job, Austin is quickly growing. Don't settle, because life is too short. Do what you're passionate about and you'll love getting up every day to go to work.
Love Your Home.
Whether you live in a 4,000 square foot home or a 400 square foot apartment, your home is your safe haven. A place where you can escape the world, be yourself, and enjoy the people you love. No matter the space, it's up to you to make it your own. Your home reflects your personality and comforts you when we come home after a stressful day.  We will see the real estate market shift in 2012. The amount of homes that are for sale will go down, interest rates and home prices will go up, and rents will rise. As this happens, people will live in their homes longer. 2012 is the year to find the home you love and settle in while home prices, rents, and interest rates are still reasonable. Find a space you love, get cozy, and build the home you love. Are you ready to lease, sell, or buy a new home?
Love Your Friends and Social Life.
Friends are like used cars. You can either trade them in for a new one or you can clean your car up and discover a new love for the good ol' faithful car that's been around for years. It's easy for life to feel stagnate and you may find yourself getting the urge to move to a new city to mix things up. Although that may solve the problem for five years, you'll probably find yourself in the same position. If you've invested a lot into your friends and feel content in your city, maybe it's time to invest a little energy into your social life. When you take yourself outside of your comfort zone, you'll notice things start to change and you'll meet new people. In the new year, take a little extra time introduce yourself to a few new people and get involved with things you're passionate about. Whatever it is you enjoy, get out and be social.
Love Your Body.
We can't change the genetics given to us at birth, but we can influence and love the body we live in. No matter the city we reside in or the job we have, it's up to us to create an active lifestyle that will help us live a happy and healthy life. If you live in a city that allows you to stay active all year round, make the entire city your gym. Explore every component of the environment. If you're limited by external conditions, then explore things you've never done before. What matters at the end of the day is you're doing the things you love, staying active, and taking care of your body. Your body is the vessel that will carry you through this life. Need ideas of things you can do to increase your activity? 
Love the Life You Can Afford.
You have two options in life. To work harder or to love more. If you're not happy with the life you live, then work harder to make more money, create change, and build the life you dream of. If you value living versus working, then love the small things in your life and enjoy the life you can afford. Ultimately, the small things in your life can create the same satisfaction as the new expensive things you buy. Whichever path you chose, be present and love the things that already exist in your life. Are you ready to make a career change? Do you work hard to afford the fine things in life? 
Love Your Life.
Above and beyond everything else, love your life. No matter the city or home you live in, the job or friends you have, or the body or materialistic things you've been given, this is your life. You have one chance to create a life you love. Your life is the platform for which you build your dreams upon. Carefully consider the things and people that come into your life, work hard, live passionately, don't take a day foregranted, and build a life you love living each and every day.
Photo Credit: Black and White Downtown Austin