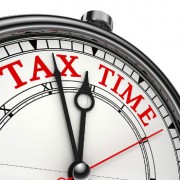 With 2015 over, and a new year begun, now is the time to start the process of gathering together all of your tax documents, income and expense items, supporting papers, and reviewing the prior-year to ensure you are taking full advantage of tax deductions you may be entitled to.
Whether you prepare your own tax return using the software products available online, or you hire a CPA to take care of your taxes for you, there are a few items to keep in mind:
Toward the end of 2013 and 2014, many taxpayers were left wondering what Congress would do with the plethora of tax rules, tax breaks, credits, deductions, etc. that were set to expire or sunset.  In each of those years, Congress took action toward the very end of the tax year making many of the tax credits retroactive to the beginning of the year.  This left taxpayers with very little time for tax planning as the year was almost already over.  Congress promised they would not do so for the 2015 tax year; however, as the year moved along, it became evident that they would not uphold that promise.
On December 18th, the Protecting Americans from Tax Hikes Act of 2015, as part of the 2016 Consolidated Appropriations Act, was sent to the President and was signed into law. (See full text at https://www.congress.gov/bill/114th-congress/house-bill/2029/text)
Of note, the following changes were made:
Child tax credit and American Opportunity Tax Credit (education credit) were made permanent, as was the Earned Income Tax Credit
Both the $250 deduction for teachers purchasing supplies for the classroom with out-of-pocket unreimbursed funds, and the deduction allowable for state and local general sales taxes (great for Texas residents who itemize) were made permanent
Charitable provisions made permanent include the tax-free treatment of distributions from IRAs to qualified charities for those 70 ½ and older; as well as the allowance for contribution of food inventory (deduction is cost plus ½ of difference between cost and fair market value, but not greater than 2x cost)
For businesses, the research & expenditure credit was made permanent, as well as the $500,000 Section 179 expensing limit (allowing small businesses to immediately deduct up to $500,000 of qualified expenditures – limitations apply based on revenues and total expenditures). Air conditioners now qualify for Section 179.
The term Qualified leasehold improvements has been changed to mean internal building improvements – there no longer needs to be a lease in place, and the requirement for improvements to be made only to a building more than 3-years old has been stricken.
Bonus depreciation (50% bonus) has been extended through 2017, then falls to 40% for 2018 and 30% for 2019.
For those with mortgages that are "underwater," i.e. the debt on the home is more than the home is worth, if debt is forgiven, it can be excluded from gross income for tax years 2015 and 2016
PPACA "Obamacare" changes include a suspension of the medical device excise tax for sales in 2016/2017, and a delay of the implementation of the tax on high-cost employer-provided health insurance (the so-called "Cadillac tax")
Energy-incentive credits are extended through 2016 (10% of cost of windows/doors, roofs, insulation, etc. ($300 credit for HVAC; windows limited to $200); up to $500 credit available, reduced by any energy credits already received in prior years)
If you have a Section 529 plan for children at college, the provisions are liberalized to allow computers, peripheral equipment, computer software, and internet access expenses to qualify as higher education expenses (which can be paid with funds from the 529 plan)
The tax filing deadline is April 18th, 2016 (Emancipation Day falls on a Saturday this year, so it will be recognized on Friday, April 15th, which pushes the deadline out to Monday the 18th).  Note that you may also have a 1st quarter estimated tax payment due on April 18th in addition to any taxes owed for your 2015 tax return.
If you have questions about any of the above changes, your tax advisor/CPA should be able to assist or, if we can be of service, please feel free to contact us at (512) 695-1231 or Iain@IainHoweCPAs.com.