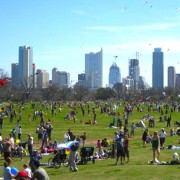 Spring is here and it's time for the annual Zilker Park Kite Festival. This is the nation's oldest kite festival and has been an annual tradition in Austin for over 84 years. Located in…you guessed it, Zilker Park…families, friends, and visitors flock out to the park to enjoy amazing weather and watch over 1,000 kites flying in the sky.
Pack brunch in a  picnic basket, set out your blankets, enjoy a few mimosas, and bring the materials to make your own kite. It's an experience you'll always remember and look forward to each year. If you want to watch the professional kite flyers, here's a schedule of all the planned activities for the festival. For me, I just enjoy the warm spring weather, my friends, and watching everyone with their kites.
Walk, bike, or fly out to the kite festival, but try not to drive. Parking can get a little hectic, so it's best to take other forms of transportation. Happy Zilker Park Kite Festival Day and enjoy the amazing Spring weather!
Zilker Kite Festival 2011 from scott hoenes on Vimeo.
Photo Credit: Austin Kite Festival