Dec 06, 2013
Comments Off

on A Christmas Story: The Classic Throwback Christmas Show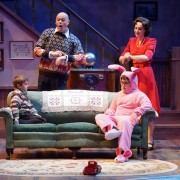 With the holidays upon us, it's that time of year to reflect on Christmases past and the dysfunctional family moments we all had as children at Christmas time! The classic throw back show, ZACH Theatre kicked-off A Christmas Story on December 5th and brings the nostalgia rushing back to the audience as we watched this hilarious comedy.
Based on a family living in midwest in the 1940's, it makes you realize family dynamics (especially around Christmas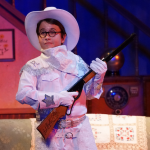 time!) haven't changed much from the good ol' days. The hyper-anxious father, passive mother, annoyingly cute little brother, and slightly chubby big brother with an overactive imagination (who I'm pretty sure grows up to be gay, because no straight kid has that active of an imagination) are perfectly paired to create a story that kept me laughing throughout the entire show!
A Christmas Story is PACKED with scenes that everyone can connect with all too well,  young and old — such as the gift that was inappropriate for us as a kid (but we could easily justify it), the neighborhood bully that we finally stood up to, that moment we realized we were too old to sit on Santa's lap, the awkward childhood girl that had a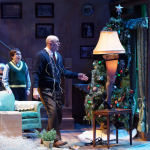 crush on us and we wanted to have nothing to do with them (different reason for this group of guys), and the obnoxious things we did as kids when our parents weren't watching…such as the kid that got triple-dog-dared to stick his tongue to the flag pole and actually did it! (My excuse? I never saw this show as a kid! So please do the kids in your life a favor and take every one to see this play so they didn't have to suffer from humiliation in elementary school like I did! #kthanks)
Celebrating at Topher Theatre, the newest addition to Austin's theatre community, is a great way to kick-start the holidays. With a classic white Christmas tree, a cutout of Ralphie (the main character) for you to take a photo of yourself in his pink bunny suit, and speciality holiday cocktails, there's no better way to get you in the holiday spirit. Oh yah…and the point of the show is to remember it's not the materialistic items we have in our life, but that we're surrounded by the people we love the most blah blah blah. The bottom line here is you'll laugh your pink bunny butt off and appreciate the holiday season a little more after see A Christmas Story!
For more information, or to purchase tickets for A Christmas Story, visit the ZACH Theatre website.
Photo credit: Kirk Tuck