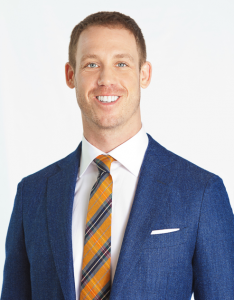 Bryan Kosarek
Licensed Real Estate Broker Associate // Publisher + Chief  Visionary Officer for GayinAustinTexas.com
Read Articles Written by Bryan
As the founder of The Kosarek Team, Bryan Kosarek is a dynamic, self-motivated real estate professional with a diverse skill set and ability to capitalize on opportunities for his clients. His reputation as an exceptional connector and negotiator, paired with his perceptiveness and sophisticated approach to business, has positioned him to excel in Austin's real estate market for the past 10 years.
Bryan honed his real estate knowledge and experience since graduating from the University of Texas-San Antonio with a Bachelor of Business Administration. He began his successful career in the Texas market, and became a Licensed Real Estate Broker in 2006. Bryan started off working for a real estate investment company that bought and sold multi-family investment property. He then founded his own brokerage, where he realized that being part of a strong brand was important for both the agent and the client. Bryan received the highest level of training at a top-name firm and is proud to be associated with on of Austin's best boutique firms in Downtown, REATX Real Estate.
"I approach everything with the eye of an investor," he says. "Even if it's a primary residence, I make sure my clients buy properly and understand how to exit the market when it comes time to sell. Like a luxury hotel, I provide white-glove concierge service and never so no. Rather, I offer options and a solution-oriented approach to my clients' needs."
Originally from Chicago, Bryan has lived on the East side since 2006. He comes from a comprehensive background in architectural design, development, real estate investment and sales, which is a valuable asset to any client, as he can navigate all realms of real estate and create an amazing experience.
Personally, Bryan also enjoys investing, flipping and rehabbing homes. He also loves adventure travel, and meeting new people around the world.

We're Looking for Real Estate Agents to Join Our Team! Looking to Grow Your Business? Learn More
Check Out Our Portfolio of REATX Real Estate Websites…
DowntownAustinBlog.org    //     AustinTowers.com      //    UrbanFamilies.info     //      HomeSpin.com