Feb 01, 2014
Comments Off

on Austin Goldstars Soccer Club – Upcoming Events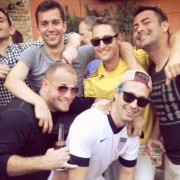 The Austin Goldstars Soccer Club is a predominantly gay social organization that provides people an opportunity to play and learn soccer in a positive and friendly environment. No one shall be discriminated against on the basis of age, race, sex, color, religion, national origin, handicapping condition, gender identity, or sexual orientation.
The Austin Goldstars Soccer Club was formed in the summer of 2006 and has participated continuously in Austin Men's Soccer Association (AMSA) spring and fall league play since spring 2007. The Goldstars captured the second place trophy in AMSA Division 5 in spring 2011. In 2013, we expanded to two team; competitive and recreational. In Spring 2014, we hope to add a co-ed team that will play in the Austin Social League.
Goldstars' players have also participated in International Gay and Lesbian Football Association (IGLFA) summer competitions over the past few years; once as partners with Toronto (Washington, DC in 2009) and twice with the Twin Cities Jacks (Cologne, Germany in 2010 and Vancouver, British Columbia in 2011). We have now set our sights on the 2014 Gay Games in Cleveland, Ohio in August.
Want to Get Involved?
Join the Austin Goldstars, and friends, at the upcoming events. Here you can meet a few of the teammates and get additional information on how to join.
Austin Goldstars Pub Crawl – February 1st // Event Details
This will be a traditional pub crawl that we (Goldstars players, fans, and friends) will do at the beginning of every season to promote our team and encourage players to attend our New Player Orientation.
Pub Crawl Route:
9pm-10pm Iron Bear
10pm-11pm Score at OCH
11pm-12pm RAIN
New Player Orientation (First Spring Practice) – February 9th // Event Details
NPO is a fun practice for the competitive and recreational teams that allows anyone interested in joining the group to come play with us and learn what we are all about.  In addition to our Competitive and Recreational teams, we are hoping to create a co-ed team to play in a social league beginning in April. (We need some ladies!!)  After practice we will be heading directly to RAIN for drinks and merriment.
Zilker Park from 2pm-4pm
Spring Season Kickoff Party- February 9th  // Event Details
This will be our kickoff party for he spring season. We encourage all players, new recruits, fans and friends to attend. It occurs directly after our New Player Orientation. We hope to do a 50/50 raffle and some other fun stuff as well.
Rain from 4:15 -??

Frequently Asked Questions
What kind of people are you looking for to join the teams? experience, skill set, etc?
Anyone, any level of skill. Our competitive team is very competitive and we have people that have never played soccer before on our recreational team.
How does someone sign up?
We are currently working on our website, so the best way to stay in touch with the team is via Facebook and the Austin Goldstars group. Although we sometimes add people mid season, the best time to join the team is to attend our New Player Orientation (NPO) or a similar practice during the preseason.
When does the season start?
The spring season starts on Sunday March 2nd. (We also have summer and fall seasons)
How long does it run?
A typical season is 8-10 weeks dependent upon the number of teams in our AMSA division.
When are games played?
The AMSA games are played on Sundays. Field locations vary.
Are there costs?
Costs on the season range from $65-$75 per person per season; depending on the season and what AMSA is charging (we also offer "Early Bird" discounts to encourage club members to pay on time). However, we never want cost to discourage someone from playing soccer. We are very leniant and are willing to help set up payment plans with players dependent on financial needs.
Are there opportunties for non-players? fans, volunteers, social events, etc?
As we expand, we have recently formed formal board members and are planning more fundraisers, pub crawls, social events etc. We always encourage fans to attend our games. Non-players can get all this information via our Facebook group page.
Who should people contact?
New players should contact the Facebook group for more information or email us at AustinGoldstars@yahoo.com
Our website, www.AustinGoldstars.com is currently under construction, but includes a link to our Facebook Group site.