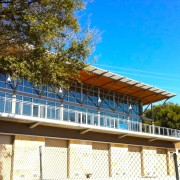 Austin's new boathouse is expected to open in this month (May 2012). The new $3.4 million Waller Creek Boathouse is located on the North shore of Lady Bird Lake and is a gorgeous addition to the hike and bike trail. Crews put the finishing touches on the Boathouse this week and today was dedication ceremony with Mayor Lee Leffingwell. 
The Austin rowing club, which was nominated to run the new boathouse, will offer some amazing amenities to rowers and runners that use the trail. The amenities and services the boat house will provide include canoe, kayak, paddle board, and bike rentals. There will be an observation deck and cafetaria with wi-fi. Rowers and runners will also have access to public restrooms and showers they can use if they want to change or rinse off after their workout.
KVUE gets early look inside new Austin Boathouse
Along with the Waller Creek Riverwalk and the growth of the Rainey Street District, this area is going to see a residential condominium and apartment boom in the coming years. The Shore Condominiums and Milago Condominiums  are two residential condos that are positioned very close the new boathouse, Waller Creek Riverwalk, and Rainey Street District. While prices are still relatively affordable, the demand for these condos will cause prices to increase over the next 12-24 months. If you are looking to live in Downtown Austin and like an active lifestyle, now is the time to get into these condominiums before these large projects are completed and cause values to increase.
The Waller Creek Boathouse is the first project to be completed in the Waller Creek District.  This is a great investment into the community and will quickly become an epicenter of activity.