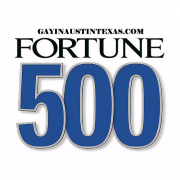 Austin is no longer just a blue dot in a sea of red, as Bob Dylan so famously sang, "the times they are changin". More and more international heavyweights are supporting the fight in Austin to accept LGBT individuals and their fight for equal rights. Titans such as Apple who is now building its North American Headquarters in the heart of Austin, to Google who is using Austin as its test city for driverless vehicles and gigabit internet–the City of Austin is on the fast track to becoming one of the world's premiere places to work if you're LGBT.
With a growing population of over 912,791 residents, and over 72,000 of those residents identifying as part of the LGBT community; Austin is now one of the United State's largest gay populations. Accounting for just over 8 percent of the city's population.
With almost a tenth of the city identifying as LGBT, the corporate giants started thinking, 18 of Forbes 500 companies to be exact, took a gargantuan stance against LGBT discrimination with the Equality Act of 2015; a congressional bill that would protect against discrimination based on sexual preference. An improvement to the landmark bill, the Civil Rights Act of 1964, that protects discrimination based on the color of your skin. And even a bill that hits even closer to home, the Texas Competes pledge
A pledge that unites all of Austin's most influential businesses not to lobby lawmakers, but instead to bring media and public awareness to the fact that Austin will not allow discrimination in the business sector.
1.Apple
It is without doubt that the world's leading tech company is one of Austin's largest employers of gay citizens–proving that fact with over 2,000 employees walking in the 2015 Austin Pride Parade. On top of that, Apple boasts having one of the most influential openly-gay CEO's, Tim Cook. Who publicly spoke about his commitment and Apple's commitments to gay rights in his Op-ed in The Washington Post.
Apple also went on to make a public statement to the United State's largest LGBT lobbying group, the Human Rights Campaign (HRC,):
"At Apple we believe in equal treatment for everyone, regardless of where they come from, what they look like, how they worship or who they love. We fully support the expansion of legal protections as a matter of basic human dignity."
2. Dell Inc.
You can't go too far in Austin without hearing about the generosity and magnanimity of Dell. Primarily because Dell's corporate headquarters lie in the rapidly growing suburb of Austin, called Round Rock. Because of it's close proximity, the tech deity employs over 14,000 employees within the City of Austin. And with that much stake in the city's workforce, Dell has an important voice in the way the city conducts itself morally.
Dell's Chief Financial Officer, Tom Meredith goes on to publicly speak on the company's involvement in Texas Competes and their role in the city's thriving LGBT businesses:
"Texas is an economic powerhouse because it's a place where talented people, entrepreneurs, and companies want to call home. But our competitiveness is in jeopardy if Texas does not become a place that is welcoming of LGBT workers and families. I applaud the signers of Texas Competes for standing up for diversity. Businesses that embrace diversity are doing both the right thing and the economically smart thing. Simply stated, businesses are strongest when they are most inclusive."
3. GSD&M
Austin's premiere advertising firm that represents business goliath's such as AT&T, SouthWest Airlines and the U.S. Air Force is one of the city's strongest supporters of the LGBT community. With sponsorship to the only statewide LGBT lobbying organization, Equality Texas and its firm stance in support of Texas Competes, GSD&M proves it is a force that will stand up to the staunch conservative organizations attempting to stall universal rights and protections.
CEO of GSD&M Duff Stewart was so fed up with the way Texas was handling its laws governing equality and protection of the LGBT community, that he personally sent out one gargantuan email to each and every one of his emails, urging them to voice their concern for Texas' conservative bill.
Duff Stewart goes on to say,
"Not only do I find this bill to be repulsive, but it goes against everything I and what GSD&M stands for."
Final Thoughts
Austin may feel like an oasis in a desert of red, but the growing number of equal rights supporters and even more vociferous companies now standing with the LGBT community–illustrate that the times are changing and the new tides will be bringing millions alongside with it.
For Californians, New Yorkers, or the little towners that have aspirations of better living, Austin is standing in the spotlight, as Maya Angelou profoundly wrote,
"I come as one, I stand as 10,000"
Number of Austin Companies supporting equal rights:
3C World Network, LLC
Acceleros
AD&M Advertising adbirds.com
AMD
Alamo Drafthouse Cinemas
Alliance Abroad Group
Alpine Pacific Advisors LLC
American Airlines
Apple
Appleseed Partners
Arrowhead Films
BazaarVoice
BBVA Compass
Benchmark Research
BILL E REEHER, LLC Inc
Birds Barbershop
Blue Fish Development Group
BP3 Global
Brenda Thompson Communications
Bromley Communications
Bruce W. Smith, DDS
Capital Factory
Carmichael Law Office
Civic Interest LLC
Dallas Entrepreneur Center
Dallas Mavericks
Dallas Regional Chamber
Dallas Sports Commission
Deep Eddy Vodka
Dell Inc.
deNovo Health
Design Basics
DFW Nerd Herd
DLA Piper US LLP
Donatti Translation & Interpreting
Due South Communications
Emmitt Smith Enterprises, LLC
Entrepreneurs Foundation of Central Texas
Far West Capital
Farmhouse Delivery
Freescale Semiconductor
GameStop
Garcia Hamilton & Associates
Gearbox Software
Genius Liquids LLC
Graves Dougherty Hearon & Moody|
Greater Austin Asian Chamber of Commerce
Greater Austin Black Chamber of Commerce
Greater Austin Chamber of Commerce
Greater Austin Hispanic Chamber of Commerce
Greatest Common Factory
GSD&M