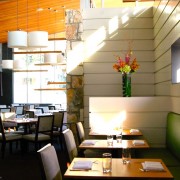 Brunch is a gay man's right on Sunday. Even if they didn't start the brunch, the gays will take credit for making it fabulous! Austin is a city that loves to brunch. From $5 bottomless mimosas to southern brunch buffets, each of the restaurants adds a spin on the classic brunch.
Here's a list of the most popular brunch places you will find the Austin gays brunching around town on Sundays.

ZTejas, Clarksville  Website
Taverna, Downtown Website
Paggi House, South Lamar Website
Moonshine, Downtown Website
Fonda San Miguel, Allandale/Rosedale Website
Enoteca Vespaio, South Congress Website
Galaxy Cafe, Clarksville Website
Haddingtons, West 6th Website
Zocalo Cafe, Clarksville Website
Kerbey Lane South Lamar, South Lamar Website
Bobby Cook's Big Gay Brunch, Different Locations
Polvos, South First Website 
Although you may not see gaggles of gays here, these are also a few more "gay approved" brunch locations!
Olivia, South Lamar Website
South Congress Cafe, South Congress Website
Lamberts, Downtown Website
Omlettery, Rosedale Website
Nau's Enfield Drug, Clarksville Website 
Tacos N' Tequilla, Clarksville Website
Photo Credit: Olivia Austin