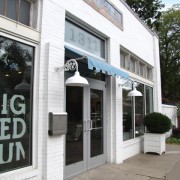 Today I was walking the dogs and passed by the new Big Red Sun, a landscape and garden design company in East Austin. The original location was just one block North of my house. Known for combining classic design with modern elements, this company inspired me when I was landscaping or decorating my house when it was first purchased. Out of all the gardening centers I've visited in Austin, hands down, Big Red Sun is my favorite one. There was a brief moment when they closed their doors a few years back I thought we were going to lose one of most inspiring and creative landscaping companies in town. And for anyone that knows me, plants and uplighting are two of my favorite things! If you can identify Big Red Sun's style, you'll start to notice their work is located in some of our favorite establishments all around Austin. Here a photos of Big Red Sun's designs around Austin.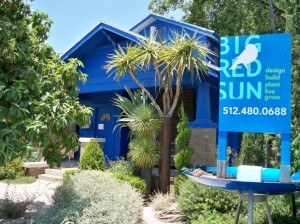 I was glad to know they didn't close when I saw them designing their new location. They re-opened a few blocks further East from their original location. The sad part is it took me almost a year and a walk with the dogs to make it into their new location. If I could make a quick confession – the main reason I didn't stop over sooner was I thought this was just a design center, not the same nursery I came to love right by my house. When I walked into Big Red Sun, version 2.0, I was blown away. It took me a few laps to check out the plants and I fell right back in love. Although the traditional bungalow and contemporary landscaping of the old location were classic Austin, the new location won my heart over with its minimalist design, classic storefront facade, and low maintenance/native plants that thrive in Austin's climate.
Big Red Sun is great if you're looking to do a landscaping project, but what people may not know is they have the best selections of succulents and cacti in Austin. Whether you're looking to add a little color to your coffee table, kitchen, or looking for a unique gift, you need stop over and explore the variety of plants. You can pick up everything necessary to do it yourself or they can prepare an arrangement for you. If you're throwing a party, an event, or getting gay married, I've also seen Big Red Sun prepare gorgeous centerpieces for events around town.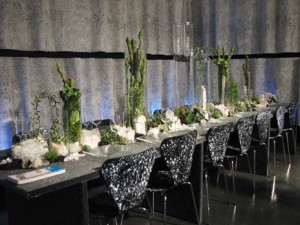 I had to share this information because Big Red Sun provided decorating inspiration for inside my house and in my yard when I first purchased my home in Austin. After living in my house for six years and having shopped at multiple nurseries, I realized how much of a gem this place is. Plants are so simple and affordable, yet contribute to such a tranquil and relaxing environment.
Photo credit: Front of Big Red Sun – StyleSwoon.com , Table Arrangements