Jun 01, 2014
Comments Off

on Cars and Coffee Austin Experience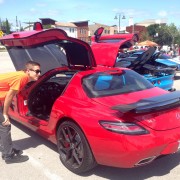 Have a passion for cars? If you recently moved to Austin or are looking for a fun new way to meet others with a shared interest; check out Cars and Coffee Austin. You will love the experience! More than just a car show, this event lets you have a unique experience by meeting the owners. If you ask, they will tell you everything you would want to know about their car, and what it is like to own it. Some events even include raffles and games!
Held  at the OASIS on Lake Travis from 10 am to 1 pm the second Sunday of every month, the events are cruise in and open to the public. If you want to show off your ride feel welcome to bring it, no appointments or RSVP's  needed.  The array of vehicles ranges from the newest Rolls Royce to some of the most capable off-road vehicles, in addition to classics, sports cars, super cars, customs, replicas and motorcycles.
Start polishing that beauty and see you next time at Cars and Coffee!
Here are some pictures from last event: