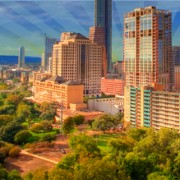 In recent years, Austin has experienced a condo boom in and around the urban core.  With the surge of urban living,  downtown has seen an increase in the amount of restaurants, bars, shopping, and entertainment. Austin is a city that is best experienced by living as close to the urban core as possible. This may not be financially feasible for everyone, but our suggestion if you're moving to Austin is to live as close to downtown while staying within your budget. Access to the parks, festivals, running and biking trails, and arts are essential to your Austin experience.
Although most cities in Texas require you to own a car, Austin has a wide range of transportation from a bike share program, Car2Go car share program, bus routes, and our metro rail. Austin is working hard to create a transportation system that allows people to easily commute in and around the urban core.
The main grocers for downtown occupants are Whole Foods, which is the flagship store and amazing, and Royal Blue Grocery. If you're living within the urban core, there's also HEB and Central Market.  Mr. Natural and Natural Grocers are more geared towards the vegan and vegetarian diets. Greenling and Farmhouse Delivery are great services if you'd like to have fresh, local produce delivered to your house. In.gredients is working to become the first package-free and zero waste grocery store in the United States and it will be right here in Austin. No matter your diet and food preferences, you will find a grocer or restaurant in town that will meet our needs.
Austin in general is a gay friendly city. Downtown Austin (78701), South Austin (78704), East Austin (78702, 78722/78723) , and North Austin (78751,78756/78757) are areas that tend to attract more gay guys relocating to Austin.
If you're relocating to Austin and have questions about buying, investing, or leasing in Downtown Austin,  fill in your information below and an agent with RE/MAX Downtown Austin will contact you to answer any questions you have about relocating to Austin.
Here's a list of all the available condos in Central Austin. To find out which properties are available for sale and lease, fill in your information above and someone will be in touch to help match you with the right property.
2124 twentyone24 condos
31 Guadalupe Condos
360 Condos
41 waller condos
5-fifty-five condos
Akoya Condos
Austin City Lofts
Austonian Condos
Avenue Lofts
Barton Place Condos
Bel Air Condos
Block 21 Condos
Brazos Lofts
Brazos Place Condos
Bridges on the Park
Brown Building Condos
Cambridge Towers
Cardinal Condos
Caswell Lofts
District 51 Condos
Este Condos
Four Seasons Condos
Greenwood Towers
Ivy on Kinney Condos
Kinney Lofts
Milago Condos
Monarch Condos
Moon Units Live Work
Nokonah Condos
Pedernales Lofts
Penthouse Condos
Piazza Navona Condos
Plaza Lofts
Presido at judges hill
Railyard
Spaces 2525 Condos
Sabine on 5th Condos
Shore Condos
Spring Condos
Swede Hill Lofts
Texan Towers
The 04 Lofts
Towers on Town Lake
Waterstreet Lofts Condos
Westgate Towers Condos
W Hotel Condo