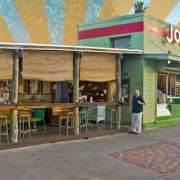 If you're visiting Austin and only going to be here for a day or so, here's a concentrated dose of the best things to do in town so you can get the true Austin experience.
If it's raining, you can supplement some of these outdoor activities with indoor activities around Austin. If you don't have a car, I'd recommend renting a car for the day.
8:00 a.m. – Get a cup of coffee or tea at Jo's Coffee on South Congress. Bring a newspaper, your dog, or your Ipad and enjoy watching the people walk by and cars zooming pass on South Congress Ave. You'll be back later this afternoon for some shopping, so just enjoy your cup of tea or coffee.
8:45 a.m. – Grab breakfast at Nau's Drug Enfield in Clarksville. This is a 1950's pharmacy and diner where you can eat breakfast at the counter. Another one of our favorite spots for breakfast is Austin Java on Barton Springs.
10:20 a.m. – Go up to Mount Bonnell, which is the highest point in Austin, and see views of the hill country and Downtown Austin.
11:05 a.m. – On the way down from Mount Bonnell, stop by the Austin Museum of Art at Laguna Gloria. Whether you stop in to the museum, or just walk the grounds, this is a gorgeous old Italian style villa that sits on Lake Austin. It is right by Mount Bonnell, so you can check it out before or after if you'd like.
12:10 p.m. – Drive out to the Oasis on Lake Travis for lunch. The drive through the hill country is gorgeous and the views of Lake Travis are stunning from the restaurant. There are several places to eat at the Oasis. If you decide to do this for dinner, get there prior to sunset so you can watch it over Lake Travis.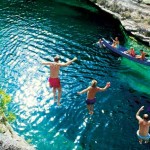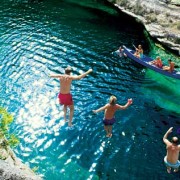 2:05 p.m. – Head down to Town Lake and rent a kayak, stand up paddle board, row boat, or a paddle boat. An hour on Town Lake will show you a whole new perspective of the city. You can pick up rentals at Rowing Dock or Texas Rowing Center. If you're not much for rowing and it's warm enough, go spend an hour at Barton Springs. Barton Springs is one of the crow jewels in Austin – a natural spring fed pool in the heart of Zilker Park.
3:15 p.m. – If it's the summer, stop by Sno-Beach on Barton Springs to pick up a sno-cone. For your first visit, we highly recommend a medium root beer sno cone, with a scoop of vanilla ice cream on the bottom, and cream on top. We promise you it is amazing!
3:55 p.m. – Take a break from the outdoors and check out the Texas State Capitol. You can pick up a self guided tour and walk around the capitol at your own pace.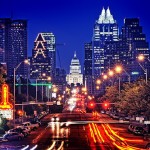 5:15 p.m. – Head over to South Congress Ave., but this time it's to shop. Check out the gifts shops, get a haircut at the old fashioned barber shop, buy your favorite childhood candy at Big Top Candy Shop, hit up the men's clothing or  vintage clothing shops, and antique stores. No matter your taste or style, there will be something for you.
6:45 p.m. – Alright, time to change and get ready for the evening. We'll give you an hour! There's still so much to accomplish.
7:45 p.m. – Enjoy dinner at some of the best restaurants in Austin. You'll probably need to make a reservation, so take this into consideration. Here are a few of our favorites restaurants: Z'Tejas (TexMex and Margaritas) , Uchi (Sushi and Japanese Plates),G'Raj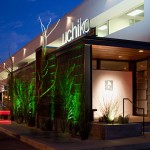 Mahal (Outdoor Thai Restaurant), Eddie V's Lounge on 5th St. (Seafood+Steak, Great Jazz Music), Congress Austin ("Natural" American Cuisine), Second Bar + Kitchen ("Natural" American Cuisine), Vespaio (Italian), Justines Brasserie (French), East Side Show Room (Rustic French with a Soul Food Flare), Hula Huts (Mexican Food with a Surfer Twist). Need more suggestions? Visit our "Must Try" Restaurant While Visiting Austin.
*If you're not much of a bar person, explore one of the live shows around town. You can visit Do512.com or the AustinChronicle.com to see what bands are playing or events are happening around town.
9:45 p.m. – Once you're done with dinner, you should probably stop out for a post dinner beverage. Austin's social scene doesn't really get going until 11:00 or 11:30 p.m., so stop over to the Historic Driskill Hotel to grab a drink and check out this Texas gem. Walk in the doors and head up to the hotel bar. They typically have live music in the bar and don't be scared to strike up a conversation with anyone around. Texans are friendly people that love to talk.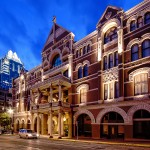 10:30 p.m.- Right outside the Driskill Hotel is the infamous 6th Street. Sixth Street in Austin is our equivalent of Bourbon Street in New Orleans and is lined with bars, restaurants, and billiards. You'll hear live music spilling out of all the venues. Take a walk around Sixth Street and find a band you'd like to listen to.
*If you're in town and want to experience the gay scene in Austin, check out our Austin Gay Bar and Lounge Guide. If you want a combination of live music and the gay scene, continue reading.
11:00 p.m. – It's time to start exploring the social scene around Austin. If you're enjoying 6th Street and found a good band, hang out here for a while. If you'd like to check out a few different music venues in the Live Music Capital of the World, then we recommend you check out Stubbs B-B-Q (Red River), Cedar Street (2nd Street/Warehouse District),  Antone's (West 6th), Continental Club (South Congress), Speakeasy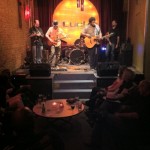 (Congress Ave.) or Lucky Lounge (West 5th). If you're into smaller, more intimate venues, we thoroughly enjoy Flipnotics (Barton Springs).
12:30 p.m.- If you still have energy and want to check out a few of the gay bars, all the bars should be busy by 12:30 p.m. –  Austin Gay Bar and Lounge Guide
2:00 p.m.-  If you're still going, you've figured out the bars stop serving liquor at 2:00 p.m. There's no doubt you may be hungry. If you're looking for a little bite to eat at this hour, we recommend 24 Diner (Lamar + 6th St.), Magnolia (Lake Austin Blvd.), Kerbey Lane (South Lamar), or the classic Whataburger (Barton Springs + South 1st) for their infamous breakfast tacos.
After 3:00 p.m., things start to calm down around town. If you've had the opportunity to meet a few locals, they may throw an after party at their house. But more than likely it's a good time to call it quits and get a good night of sleep.
Photo Credit: Mount Bonnell, South Congress Avenue, Driskill Hotel