Austin has consistently been ranked as one of the most fit cities in America. The warm weather, number of days of sun, and the unique terrain make the entire city of Austin your gym. Whether you prefer indoor or outdoor activities, Austin definitely has something for everyone.
It's hard not to exercise while living in Austin. Of course no one can force you to be active, but you're constantly surrounded by people running, biking, playing in the parks with their dogs, or training outside at a boot camp. Then there's the marathons, fun runs, and obstacle runs. There's not a weekend that goes by you don't feel like you're driving by one of these events. With the amount of people exercising around you, it's constant motivation and encouragement to try one of the many activities you can do in Austin, Texas.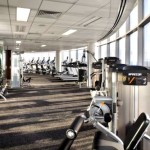 Gyms
Whether you're looking for a larger gym like 24 Hour Fitness, Lifetime Fitness, Gold's or smaller gyms like Pure Austin, Castle Hill Fitness, or South Congress Athletic Club,  Austin has plenty of gyms that will fit within your budget. Monthly memberships range from $10 to $90, and can include different amenities like rock climbing walls, pilates studios, racquet ball courts, and indoor/outdoor swimming pools. Most gyms offer a free trial period ranging from one day to seven days. If you're looking to save a little money, you could probably get access to gyms for an entire month on trial periods alone. There are a lot of nice gyms in Austin, so take your time and explore!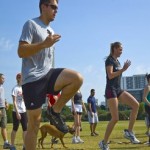 Boot Camps
If you need a little motivation when it comes to working out, then a boot camp may be the way to go. It's like paying for a personal trainer, but for a fraction of the price and you have the encouragement of the group you're working out with. Some boot camps have set locations and others meet at different parks around town. Depending  on the intensity level you're looking for, there is a boot camp in Austin that will challenge you. Our favorite boot camps in town are Brodie Park Crossfit , Crossfit Central, H.E.A.T. Boot Camp, and Boot Camp U.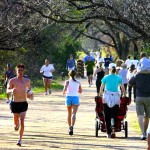 Running Trails
If there's  one thing Austinites love, other than margaritas and mexican food, it's running. I guess they kind of go together? Even if you don't like running, go down to Lady Bird Lake and you'll discover a whole new love for running once you see all the hot shirtless men on the trails! If you live close to Downtown, then you'll have access to one of the true gems in Austin…The Trail at Lady Bird Lake. Over 1.5 million people a year use the trail. Stretching from MoPac Expressway to Long Horn Dam, this trail is 10.3 miles long. No matter the distance, you'll find a stretch of the trail you enjoy running. If you're not able to make it Downtown to run, there are plenty of trails in Austin where you can get out for a nice run. If running is your true passion, or you're looking to get into running, then there are running clubs you can join as well.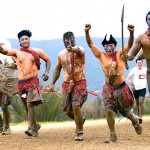 Marathons + Fun Runs
Austin has a very active running community. Because of this, there are plenty of triathlons, marathons, fun runs, and obstacle runs throughout the year. It's fairly common for folks looking to get into running to start off with a 5K, which is 3.1 miles if you're not familiar with the running lingo. Some of the best 5K runs in Austin are the Pride 5k, Color Run, Turkey Trot, and Keep Austin Weird 5k. Austinites love anything crazy. That's why obstacle runs like the Tough Mudder, Muddy Buddy, Warrior Dash, Urban Dare Adventure Race, The Jailbreak, and the Zombie Race have been so successful in Austin. At the top of the running pyramid in Austin is the Livestrong Austin Marathon, Cap 10K Marathon, 3M Marathon, and Ironman.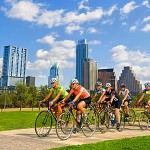 Hike + Bike Trails
Influenced by Lance Armstrong, Austin has developed a huge biking community. Sitting on the Eastern edge of the Texas Hill Country, Austin has a different terrain than most of the larger Texas cities and makes it unique for biking. Whether you prefer off road biking or mountain biking, there's a trail in Austin that will challenge you. One of the largest biking events for the gay community in Austin is the Hill Country Ride for Aids (see #4). The Livestrong Foundation also hosts the Team Livestrong Challenge every year. If you're just starting off with biking, then you'll want to find a few trails to explore. BicycleAustin.info or AustinBike.com provide information on the trails around Austin and Central Texas. If you're more into the off road trails, then check out the Barton Creek Greenbelt which is also great for hiking.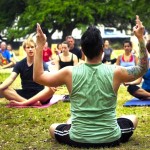 Yoga + Pilates
Although Austin isn't the hippie town it use to be, Austinites still enjoy holistic exercise and the overall culture. Yoga and pilates studios are very popular in Austin and the chances of there being a studio in your neighborhood are pretty high. Most of the gyms offer yoga and pilates classes as well. Some of our favorite yoga studios include Black Swan Yoga, East Side Yoga, and Yoga Vida. There's even a nude yoga studio, which is a hit with some. No matter your style, level, or experience you will find a yoga or pilates studio that is right for you. Keep your eyes open during the summer in Austin! It's pretty common for some of the studios to offer free yoga classes, one day a week, at different parks and venues all around town.
Sports + Social Clubs
If you're not one for lifting weights and prefer to play sports to get your daily dose of recommended exercise, then you should check out one of the gay sports and social clubs in Austin. From soccer to tennis, and everything in between, there's probably a gay sports group for you to join in Austin. We're continually seeing new groups pop up. So if you're not finding exactly what you're looking for, give it time. Or in the Austin spirit, start your own group! Joining a sports and social club will be the best way to stay active and meet new people.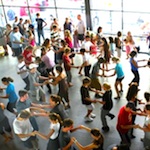 Dance Classes
If you enjoy dancing, or are looking to learn, it's easy to find dance classes all around Austin. Dancing is one of the oldest forms of exercise and probably one of the most fun. I mean, Kirstie Alley was living proof of what dancing can do for you while she was on Dancing with the Stars. Ballet Austin offers drop-in classes from hip-hip to arms and abs conditioning. You can also find ballroom dancing classes, tango and salsa classes, as well as  the choreography to different music videos like Single Ladies, Bad Romance, and Judas. So matter your skill level, there is a studio around Austin that will help you learn the right moves.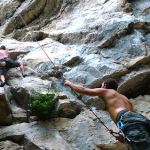 Rock Climbing
One of the unique things about Austin is its terrain. Austin sits on an inactive fault line, which is the reason for our natural springs, cliffs, and hills. If you're into rock climbing, there's several spots along the Barton Creek Greenbelt you can check out. Austin Rock Gym also provides an indoor climbing wall and takes people out on rock climbing trips. If you're looking to meet some folks around town that can show you the ropes, there's a group on Meetup.com for rock climbers.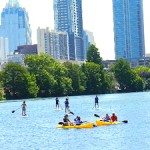 Kayaking + Rowing
One of the best ways to exercise in Austin is to utilize all the natural resources. Lady Bird Lake is one of the true gems in Austin and provides plenty of opportunity to exercise. From kayaking to rowing and stand up paddle board to canoeing, there are all sorts of water activities on Lady Bird Lake.  Unless you row regularly, renting by the hour is much easier than purchasing your own row boat or kayak. If you're looking to head out on the water for an hour or two, the best places for rentals are: The Rowing Dock, Texas Rowing Center, Zilker Park Boat Rentals, and Austin Kayak. If you have your own boat, you can access lady bird lake at multiple locations. If you really enjoy canoeing or kayaking, Texas Parks and Wildlife also have a calendar full of paddling events all around Texas.
The trails, rivers, springs, and parks are all part of what makes Austin the amazing city it is, yet the easiest to forget when going through your daily routine. Make it a habit to enjoy the outdoors at least once a month and remind yourself of the amazing things that exist in your new city.
To keep up with GayinAustinTexas.com, follow us on Facebook or Twitter. If you have any questions or suggestions, please feel free to contact us.

Photo Credit: H.E.A.T. Boot Camp, Crossfit Austin, Austonian Gym, Biking Trails, Warrior Dash, Yoga, Town Lake Running Trail, Rock Climbing, Kayaking in Austin, Dance Classes at Ballet Austin