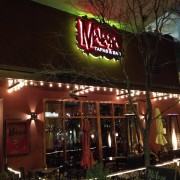 When I was in my 20s and 30s a first date was nerve wracking. Mainly because I'd agonize over what to wear. Fortunately I'm in my 40s now and I agonize over completely different things like where we should go to eat.
The clothes part is easy. After all, I wear clothes every day, but I don't go out to eat every day. Choosing the right restaurant can set the tone, not just or the evening but perhaps the rest of the relationship. I mean think of your past relationships, or your current one, hopefully you have fond memories of that first date.
This past Thursday I had a first date and I wanted to choose a place that would inspire creativity, conversation and taste great! My date didn't have any dietary restrictions (never assume that everyone eats meat or gluten) so the winner was tapas at Malaga.
Why Malaga? The tapas selection is varied and flavorful. They offer valet parking and it's got great ambiance for a first date with both indoor and outdoor dining. If you're not familiar with tapas, they're small plates of Spanish food that are perfect for sharing. But best of all, they encourage conversation on two levels. First in choosing what to order. I recommend you and your date start off with a dish each to share and keep the menu handy in case you want to order another plate or two. Second, because the dishes are so small, you won't be totally focused on the plate, but rather the date!
What are you favorite spots in Austin for a date? Share them with us on GayinAustinTexas.com and happy dating!
Malaga Tapas & Bar
440 West 2nd Street
Austin, TX 78701
512-236-8020