Jan 06, 2014
Comments Off

on From Atlanta to Austin, A New Austinite's Journey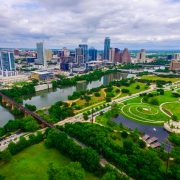 For those who aren't aware, Texas is big. Like, really big. And Houston takes up about half the land mass of Texas. I didn't even stop there, but after spending four days driving through it (each way) I've come to the conclusion it's an endless spawl, covered with a veritable web of elevated highways and roads, and occasionally you'll spot a smattering of tall buildings here and there.
I'm going to digress for a moment and describe the whole Couch Surfing experience. Obviously I wasn't chopped up and thrown into a dumpster by a serial killer, but it was a bit bizarre, although that was perhaps due to my hosts. The first host told me he lived at a co-op, which I'd never really heard of before.
Essentially I would describe it as a hippy commune of friendly people who don't work and party until 5am seven days a week, and aren't too big on cleaning. "Keep Austin Weird" is akin to the motto of the city, if you could even call it that, and the co-op was certainly a nice introduction to weird.
My host certainly marched to his own beat as well, he explained to me he's an anarchist socialist and told me, since the co-op folks weren't huge on couch surfing, to tell people we met at an Occupy rally. I think the only time I ever considered going to an Occupy rally was with Sara, when we'd heard most of the tents in Providence weren't occupied we debated stealing some to go camping with. Anyways, I digress, again.
The second host had changed his first name to Fremen, after the inhabitants of Arrakis in Frank Herbert's Dune. Certainly unique, but admittedly it IS one of the best sci-fi books of all time; clearly Mr. Fremen had good taste. He was much more mainstream – freelance web designer with a standard 1bd apartment who let me crash on the futon for the rest of my time there. He even went with me out to the Alamo Draft House to go to the Monty Python and The Holy Grail Quote-Along (more on that later), so kudos.
In short, couch surfing is like staying with a total stranger who you may or may not bond with socially. It can feel a little awkward, but if the roommate agrees I do plan on hosting some folks as they travel through Hotlanta, if for no other reason than to pay it forward.
Austin itself is a lovely city that, if pressed, I would have to compare to Seattle with more sunshine. As I was driving into the city, my first impression was the radio stations, and I have to say I was very impressed (though to be fair I expected superior quality stations since Austin has such a vibrant music scene). I couldn't find an oldies station, but there was at least one classic rock station that had a decent playlist – where the stations shined was with rock/alternative. 103.1 iHeartAustin wasn't so much a radio station as it was audible delight – I easily expanded my song library by some 40 songs on my visit.
Everywhere I went in Austin, the neighborhoods were eccentric and cute. At one point I got turned around in my search for the highway on ramp and wound up driving past these palatial estates on a hill overlooking the city and directly above a park. Speaking of parks, they're everywhere, and they're pretty nice. The city itself is situated on the Colorado River, and they use this to great effect – Lady Bird Lake was beautiful, and I saw it in the winter when all the trees were dead, I'm sure it's even better in the summer.
Unless you live in a cave in a remote region of Uzbekistan, I'm sure you've heard about Austin consistently being rated one of the best cities for young people, new businesses, fastest growing, very low unemployment, etc. Well, this was evident even on my short walks throughout the neighborhood. Construction is EVERYWHERE, and we're not talking some rinky dink piss pot new houses being built, there are big buildings going up all over the place. For example, Fremen was showing me Rainy Street, and as we walked along it he saw a condo high-rise and exclaimed "Oh f*ck that wasn't here before!" Yeah.
Most people I talked to in the city wound up visiting, falling in love, and moving there. Only met about three natives of Austin. The population is growing by 150 – 156 per day depending on which study you read, and it's causing property values to soar. So many people are moving to Austin the housing market has been struggling to keep up, and I've heard mention the infrastructure is being taxed to the limits. Even so, the entire time I met a whopping two people who said they wanted to move away – everyone else had visited X years ago and had lived there ever since.
Texans are big on Texan pride. I saw Texan state flags everywhere, and American flags everywhere. The people themselves are some of the most beautiful I've ever seen, and young. I'm sure LA has more beautiful people, but unlike LA, or even Atlanta, you could walk down a street and people would greet you as they walked past. Even at the gay bars it was very easy to meet a bunch of people, and they were down to Earth folks for the most part.
The city itself offers a ton of things to do as well, with varying degrees of affordability. There are multiple free museums on the UT campus, the military museum I went to was free, if you go to the right bar on the right night you can find $1 drinks all night, etc. The UT campus was nice, but UW in Seattle is still the nicest I've seen, nothing beats their dogwood trees.
Speaking of further Seattle / Austin comparisons, the two are neck and neck in terms of quality coffee. Austin had more numerous independent coffee shops, all with good coffee, but the best I can ever remember having in my life would be Cafe Vita in Seattle. The problem with Seattle was there was chain coffee everywhere, whereas I only saw a handful of chain places in Austin, and most of those were local, i.e. Austin Java.
Compared to Atlanta, Providence, or any other city I've been to (mind you I haven't been to LA or San Diego in about seven years now so things may have changed), Austin came off as forward moving and progressive. For example, their traffic lights are far more advanced and efficient than Atlanta's – Austin lights have sensors to detect traffic flow and adjust accordingly. They also will switch to simple stop sign functions as the traffic patterns decrease later in the evening. The city has even installed automated bike rental racks downtown – imagine walking up, zapping your credit card, and being able to ride a bike around all day. You can even put the bike back at an alternate rack from the one you originally found it. Cool stuff.
The streets are VERY walking and biking friendly, and throughout the whole time I was there never once did I feel unsafe in any capacity. Hell, I was stumbling around drunk on one of my first nights there trying to walk back to the hippy commune, got lost, and wound up paying a homeless dude to be my tour guide (one for the memoirs). He was actually pretty good conversation, and a friendly dude to boot. Walking and biking throughout the neighborhoods can also net you some interesting photos, I found graffiti of a frog that simply said "Hi how are you?" underneath it, there were houses with peace signs painted on them, and a whole variety of other eclectic sights to be seen.
My experience with restaurants there was that of angels dancing on my taste buds. Torchey's Tacos is an Austin staple, and I'm fairly sure I dropped $50 there in three days. I was throwing caution into the wind and ordering tacos with toppings I never eat, taking any sauces that came with it, and just going for it, and never once was I disappointed. The Mexican restaurant I went to downtown had pretty damn good enchiladas and I can't even pronounce the appetizer we ordered, but it was essentially a cheese, bean, and salsa concoction I could live on. Plus there's In & Out, enough said.
Price wise, Atlanta is far cheaper – I would say Austin is more on a par with Seattle or Providence for rent, though less expensive in other ways. Texas has no state income tax, but their property taxes are very high to make up for it. Gas was inexpensive, even in the city I saw it as low as $2.94/gal, however cigarettes were about $5.50 – 6.50 per pack. As I said earlier, even if you're a proverbial bar fly like I am, if you go to the right places on the right days $1 well drinks can be found.
There isn't much in the way of mass transit, and although I didn't personally take one of these, the bus system seemed on a par with Seattle, though far less expensive. $1 for a one way ticket, $2 for a 24-hour pass. Busses ran up until 3am, and since the bars closed at 2am you could theoretically get absolutely shitty and still take mass transit home, provided you could somehow navigate it drunk.
I did take three taxi trips, one of which was driven by the craziest cab driver I've seen. He was an old, fat man who had lived in Austin for some 30+ years. The man cursed so much a trucker would've blushed, was honking his horn at slow moving drivers, dropping f-bombs like normal people use nouns, etc. Hot mess.
In general, Austin was a great time, and although I didn't get a very realistic experience of what your standard day to day life would be like I'm going to begin planning a move there. Brain storming, essentially, as I still have many things going on here and things I would need to wrap up, but as my cousin said in response to my intentions, "Why the Hell not?"
I could use some weird in my life.