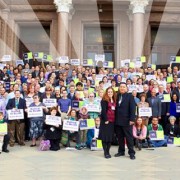 When moving to a new city, one of the best ways to network and meet new folks is by immersing yourself in the community. Depending on the crowd you're looking to network among, getting involved with an organization or non-profit will introduce you to many people you may not otherwise meet at the gay bars.If you're currently living in Austin, you're probably familiar with the gay and lesbian events in Austin that happen throughout the year. What you may not be familiar with are the organizations behind these events and the opportunities they provide to volunteer and meet other established people around town. Here's our list of the top LGBT and non-LGBT organizations out there if you're looking to get involved in Austin.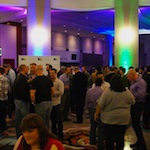 Equality Texas: Equality Texas is the only state level organization lobbying the Texas legislature for the elimination of discrimination based on sexual orientation and gender identity/expression. Based in Austin, I believe this is one of the most important organizations in Texas since the work they do impacts us directly at home. When you donate money to organizations like HRC, the money is sent out of the state.  Equality Texas keeps their money in our state and works to change the laws that impact our daily lives. Equality Texas is known for their events like the Merry Martini Mixer and Lobby Day at the Capitol. Opportunities for involvement include special events, internships, and helping the non-profit branch of their organization. Volunteer with Equality Texas
Out Youth: Out Youth promotes the physical, mental, emotional, spiritual and social well being of sexual and gender minority youth so that they can openly and safely explore and affirm their identities. This organization envisions a world where sexual and gender minority youth receive the support needed to develop positive self-images, empower themselves and become active citizens in their communities. Out Youth operates out of a house in North Austin and provides a safe haven for youth to connect with other peers, engage with established volunteers, and speak with on-staff therapists if necessary. Opportunities for involvement include being a volunteer at the house, helping maintain the house,or work on special projects for the organization.  Volunteer with Out Youth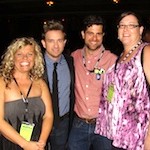 Austin Gay & Lesbian International Film Festival (aGLIFF): The Austin Gay and Lesbian International Film Festival cultivates the Texas LGBTQI film and arts community by enlightening, educating, and entertaining our clients and patrons through the exhibition and support of the best in recent LGBTQI international, national, and regional films and art. Opportunities for involvement include special events and fundraising. Volunteer with aGLIFF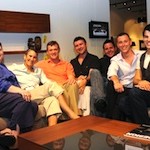 Austin Gay & Lesbian Chamber of Commerce (AGLCC): The goal for the Austin Gay & Lesbian Chamber of Commerce is to cultivate and promote the economic well-being of LGBT-owned and LGBT-friendly businesses in Central Texas through marketing, education, and community development. There are a few opportunities to volunteer, but to really be engaged with this organization you need to become a member or join the board. You can also attend networking and education luncheons through the chamber of commerce. Volunteer with AGLCC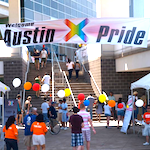 Austin Gay & Lesbian Pride Foundation: The Austin Gay and Lesbian Pride Foundation (AGLPF) is dedicated in their commitment to making Austin Pride a showcase event representative of the diversity of the entire LGBTQ community. Involvement opportunities include special fundraising events through out the year and committees for planning pride each year. Volunteer with Austin Pride Foundation
Human Rights Campaign (HRC): The Human Rights Campaign is America's largest civil rights organization working to achieve lesbian, gay, bisexual and transgender equality. The Austin Steering Committee of the Human Rights Campaign is a diverse volunteer group of individuals working to bring the mission of HRC to gay, lesbian, bisexual, and transgender and straight-supportive people in this area. By taking part in community events, prides, town hall meetings and partnerships with other organizations, these volunteers are working hard to support HRC's efforts in the movement for equal rights for LGBT people. One of the biggest events for HRC Austin is their black tie gala which occurs every year around February. Volunteer with HRC Austin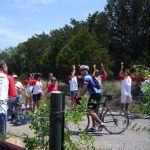 AIDS Services of Austin (ASA): The mission of AIDS Services of Austin is to enhance the health and well-being of the community and people affected by HIV and AIDS. Involvement opportunities include administrative support, building maintenance and landscaping, and the Helping Hands Food Bank.  Volunteer with Aids Services of Austin 
Octopus Club: The Octopus Club is a grassroots, volunteer fundraising arm of AIDS Services of Austin dedicated to raising awareness and funds for the Paul Kirby Emergency Fund through annual events and parties. The Paul Kirby Emergency Fund provides emergency financial assistance to those living with HIV and AIDS in Central Texas. These funds are distributed to individuals for basic living needs through AIDS Services of Austin on a case-by-case basis. Involvement opportunities include event planning, event support, or hosting a small event. Volunteer with Octopus Club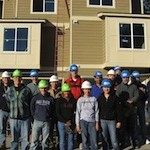 Habitat for Humanity: Austin Habitat for Humanity was founded in 1985. An affiliate of Habitat for Humanity International, it was dedicated to financing and building homes that low-income residents could afford through zero-interest, no profit mortgages. In the beginning, Austin Habitat was completely run by dedicated volunteers, who raised funds to build up to a few homes per year. Since that time, they have built more than 270 homes for low-income, hardworking families. They have grown to be the largest provider of homeownership to low income residents in Central Texas, building up to 25 homes per year.  Volunteer with Habitat for Humanity
Volunteer with a Sports and Social Clubs: Here's a list of the sports and social clubs in Austin. If you're interested in volunteering with one of the organizations, you can contact them through their website and see what is available.