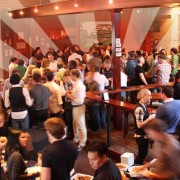 Whether you've recently moved to Austin or are a current Austinite looking to expand your social circle, we invite you to join us for the Gay in Austin Happy Hour. 
Held the first Thursday in February, April, June, August, October, and December, the Gay in Austin Happy Hour is a great way to meet new people in Austin and break out of your normal social routine.
To attend the Happy Hour for October 2012, click on the button below and add yourself to the guest list.
EVENT DETAILS
Date: Thursday, October 4th, 2012
Time: 6:00 p.m. to 8:30 p.m.
Location: TBA
Type: Cash Bar

If you have any questions or suggestions, please feel free to contact us. To learn about future events, follow us on Facebook or Twitter.