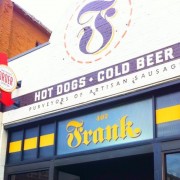 I'd like to thank everyone that came out to our first Gay in Austin Happy Hour! When the restaurant asked me how many people I should expect, I wasn't sure. 15 people? Our inaugural event had close to 40 people and I can't wait for our next Happy Hour in April 2012!
Here's my vision for the Gay in Austin Happy Hour. I'd like this event to average around 200-300 people per event. I'd like new and established Austinites of all ages the opportunity to meet new folks, expand their social circles, and network if they're looking for a job. I have no doubt this event will grow quickly and I would greatly appreciate your help to grow the happy hour. Our next event is in April. If you have a friend that has recently moved here, or will be moving to Austin by April 5th, please introduce them to the blog GayinAustinTexas.com and have them register for the next event. I'd appreciate any help growing the happy hour!
Here are the photos from the February 2012 event @ Frank Hot Dogs and Cold Beer. These guys went ABOVE and BEYOND what they said they were going to do for our event. If you're ever Downtown near the clubs and find yourself hungry, please stop by Frank and grab one of their awesome hot dogs or side dishes. If you're a coffee drinker, I've actually heard they have one of the best cups of joe in town. Seriously!
If you haven't connected with us on Facebook, please do! We look forward to seeing all of you at the next event!
[nggallery id=6]
Once again, thank you to Frank! I love their video, so I'm going to share again.