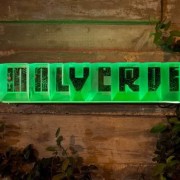 164 guests! That's how many showed up to celebrate the one year anniversary of GayinAustinTexas.com. We had new attendees from Miami, Los Angeles, Chicago, and Phoenix to name a few.  "There's an energy at these events! Every time I go, there's new faces I've never seen." a guest told us. From the beginning, the goal of GayinAustinTexas.com was to help people find their place in Austin – whether that was literally or figuratively. As we focus on the coming year and how to expand the reach of the blog, both locally and nationally, we're tremendously excited for the opportunities that lie ahead of us! We all love Austin and as we work together to build this amazing resource, we'll continue to attract people from all over the world that will fall in love with Austin as we have.
Have you heard of He's For Me?
We're excited to have He's For Me, Austin's first OFFLINE matchmaking service, as the sponsor of the GayinAustinTexas.com Happy Hour. As Austin's professional community continues to grow, He's For Me will be there to help gay men looking for a meaningful, long-term relationships offline and outside of the bars. Don't worry ladies. In the near future, they'll be launching She's For Me. We'll keep you posted as details are released!  Learn More About He's For Me
If you've recently moved to Austin, or you're looking to expand your social circle, register for the next GayinAustinTexas.com Happy Hour at the W Hotel Austin. Click here to register
Thank you for 
reading

 the blog, 

helping

 grow the happy hour, and 

introducing

 your friends to GayinAustinTexas.com as we continue to become the 

go-to guide

 for current and future LGBT

residents of Austin

!