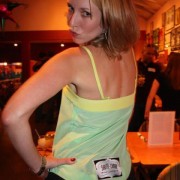 Thank you to Santa Rita Cantina and RE/MAX Downtown Austin for hosting the September 2012 Gay in Austin Happy Hour. This month we adventured out of Downtown to Rosedale, a neighborhood in North Central Austin. Santa Rita Cantina and Eddie Bernal were kind enough to offer their restaurant for our happy hour and provide wings, chips, and salsa!
People are definitely moving to Austin! We had new attendees from Las Vegas, Bryan-College Station, Philly, Washington, DC, and Minnesota. We welcomed them in true Austin fashion – with Tequila and had them compete in the Pee Wee Herman Tequila Dance Off! Lauren Zurbrugg won the dance off and a $50 gift certificate to South Lamar Liquor to buy a nice bottle of Tequila.
I always like to share the nicest quote of the night and it was "I love this event! How do you get such a great mix of people here? And they're nice!" 
Thank you for helping grow the event by inviting your friends that are moving to Austin and introducing them to the blog – GayinAustinTexas.com. If you're in the process of moving to Austin, you will definitely need to come out to the next happy hour. Our goal is to always have a unique and interesting mix of people at these events. Help us grow the Gay in Austin Happy Hour by liking us on Facebook and inviting your friends to the next happy hour.
Here are the photos from the event and I look forward to seeing you at the next event!