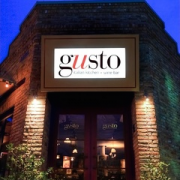 Whether you've recently moved to Austin, or are a current Austinite looking to expand your social circle, we invite you to join us for the GayinAustinTexas.com Happy Hour! 
The GayinAustinTexas.com Happy Hour is a great way to meet new people in Austin and break out of your normal social routine. With a plethora of unique personalities, business owners, socialites and philanthropists; the GayInAustinTexas.comHappy Hour is the ideal time to get acclimated with new people making great things happen in the City of Austin. Feel free to bring friends, family, that fascinating guy from the office–there are no closed doors in our community. With close to 100 people attending these events, you're destined to meet somebody new!
To attend the GayinAustinTexas.com Happy Hour, click on the button below and add yourself to the guest list.
HAPPY HOUR EVENT DETAILS
GayinAustinTexas.com Happy Hour
Date: Thursday, October 6th, 2016*
Time: 5:30 p.m. – 7:30 p.m.
Location: Gusto Italian Kitchen + Wine Bar
Address:  4800 Burnet Rd., Austin, TX 78756
Type: Cash Bar
*If shows TBA, you can still register and you will be notified once a location has been finalized. 
SPONSORED BY:
He's For Me: Austin's First Offline Gay Matchmaking Service
Family Tree Dental: Your New Dentist in Austin
The Kosarek Team at REATX Real Estate

To see photos from previous happy hours, click here