Dec 06, 2013
Comments Off

on GayinAustinTexas.com 2-Year Anniversary – Nov 2013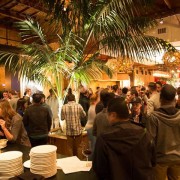 Celebrating our 2-year anniversary, we took the GayinAustinTexas.com to Searsuckers in the Warehouse District to celebrate with over 100 of our closest friends. Every year reminds us how much we have grown, how many people we have helped, and how Austin has become such an amazing city. From the beginning, the goal of GayinAustinTexas.com was to help people find their place in Austin – whether that was literally or figuratively. As we focus on the coming year and how to expand the reach of the blog, both locally and nationally, we're tremendously excited for the opportunities that lie ahead of us! We all love Austin and as we work together to build this amazing resource, we'll continue to attract people from all over the world that will fall in love with Austin just as we have.
If you've recently moved to Austin, or you're looking to expand your social circle, register for the next GayinAustinTexas.com Happy Hour – Click Here to Register for next Happy Hour.
Thank you to our sponsors He's 4 Me – Austin's First Offline Matchmaking Service, Aaron Lee with Bank of Texas Mortgage, and Family Tree Dentistry for supporting GayinAustinTexas.com and GayinAustinTexas.com Happy Hours. If you have recently moved to Austin, learn more about our sponsors and their services.