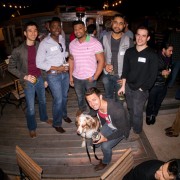 With summer right around the corner, there's two things that pick up – the number of people moving to Austin and the temperature! In our world, both are welcomed…well at least until September. While temperatures are still in the 80's, we thought we'd enjoy a night out at Reds overlooking the gorgeous jewel of Austin – Barton Creek Greenbelt.
Have you heard of He's For Me? We're excited to have He's For Me, Austin's first OFFLINE matchmaking service, as the sponsor of the GayinAustinTexas.com Happy Hour. As Austin's professional community continues to grow, He's For Me will be there to help gay men looking for a meaningful, long-term relationships offline and outside of the bars. Don't worry ladies. In the near future, they'll be launching She's For Me. We'll keep you posted as details are released! Learn More About He's For Me
If you've recently moved to Austin, or you're looking to expand your social circle, register for the next GayinAustinTexas.com Happy Hour – Click Here to Register for next Happy Hour.
Click to see photos from April's GayinAustinTexas.com Happy Hour