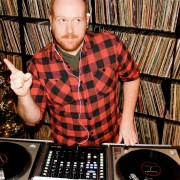 We rang in the season with December's GayinAustinTexas.com Happy Hour in front of the W Hotel Fireplace with DJ Bird Peterson spinning. With over 100 people in attendance, the spirits were happy and people were definitely merry by the end of the night. He's for Me raffled off a fabulous champaign flute basket and AFab Austin was there let everyone know about their New Year's Eve Party they're throwing! It was definitely a time to be had and we couldn't be more excited for all we're working on for 2013!
"Thank You for the great introduction to Austin last night!
Only being here a month, it was great to see a strong group
of professional people in a social environment.
Looking forward to the next one." – Joshua M.
Have you heard of He's For Me?  We're excited to have He's For Me, Austin's first OFFLINE matchmaking service, as the sponsor of the GayinAustinTexas.com Happy Hour. As Austin's professional community continues to grow, He's For Me will be there to help gay men looking for a meaningful, long-term relationships offline and outside of the bars. Don't worry ladies. In the near future, they'll be launching She's For Me. We'll keep you posted as details are released!  Learn More About He's For Me
If you've recently moved to Austin, or you're looking to expand your social circle, register for the next GayinAustinTexas.com Happy Hour – Click Here to Register for next Happy Hour