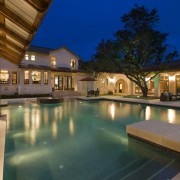 Out Youth's annual fundraiser, Glitz, is days away on Saturday, October 26th.  Out Youth offers peer support groups, counseling, educational programs, social activities and community outreach. As expected, every year gets better and this year is definitely going to be big. With more than 250 people expected to be in attendance, Deep Eddy Vodka will be the drink sponsors and the Emmy-winning television star, celebrity stylist, New York Times best-selling author and fashion designer Carson Kressley will be appearing at Glitz!
This year's Glitz will be held at the beautiful home of Cord and Annie Shiflet in Westlake Hills. It is definitely a house with a surprise around every corner. Everything from a classic Cadillac, to several motorcycles, to a giant-sized swing set, and a stunning pool to celebrate around, this is a house with something for everyone!
I attended Glitz last year and I was pleasantly surprised to see so many familiar faces along with a lot of new ones. Every year the attendance grows and is filled with people wanting to show their support for LGBT youth in our community. It was amazing that the crowd crossed all type of demographic lines – straight allies, community leaders, business professionals, younger adults, etc. To them it didn't matter that these youth were LGBT, but they were there showing support because these are just kids, they are our future and all kids need adults to be advocates and mentors for them.
Bullying and suicide are hot topics effecting our youth today. The self-esteem and health of these youths is so important to nurture in positive ways.
"Statistics show that nearly 9 out of 10 LGBT youth (86.2%) reported being harassed at school in the past year because of their sexual orientation, and 3 out of 5 LGBT youth (60.8%) felt unsafe at school because of their sexual orientation, according to GLSEN."
There are a lot of resources out there and Out Youth is one that we have right here in Austin that makes an impact in the lives of many teenagers every day.