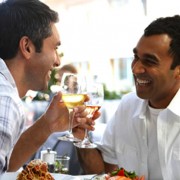 Austin is topping the lists  these last few years.  Lists of "Best place to/for…..(fill in the blank)."  Dating-related stats often top the list.  Even when I moved here, now 10 years ago, I too was filled with hope, optimism, and near giddiness that I would meet "the one" in this growing city of singles.
Those of us searching for a long-term relationship easily forget that simply because it is what we're searching for, it is not necessarily the case for the other men (or women) in the crowd.
Dating and meeting new people in a new city can be fun, even exhilarating, if you will.  In meeting a fresh face, you bring no cloud of the past, no baggage, and no scars.  You bring your own fresh and forward-thinking heart and soul.  You bring your A game.
And while there can be instant attraction, chemistry even, and certainly a boost of adrenaline, if you are not in the same place in life and wanting the same things, one or both of you can face disappointment.
So back to those noteworthy lists reflecting Austin's popularity and growth.  He's For Me is the new private, offline and personal matchmaking service for select gay professional men in Austin.  And, yes, we're creating a list of our own.  THE list of professional gay men in Austin seeking a long-term relationship.  We're proud of our growing list, and excited for the journey of each of our exclusive clients.  Whether or not you are or become a member of our matchmaking service, you may still benefit from our services.
He's For Me proudly sponsors the GayinAustinTexas.com Happy Hour for newcomers in Austin, starting with our launch November 1, 2012.  H4M-Austin and its Associates will be there to welcome you, introduce you if needed, and get to know you if interested.  And don't be surprised if we ask your availability for a potential lunch date introduction for one of our clients.
The odds are good, my friend.  And from the men we've already met in Austin, we hope to create our exclusive list to compete with some of the best:
Kiplinger- 10 Best Cities for the Next Decade #1 out of 10
Forbes- Best Cities for Jobs #1 out of 10
Sperling's Best Places- Best Cities for Dating #1 out of 10
CNN- Best Big City to Live In#2 out of 10
Forbes- Best U.S. Cities to Earn a Living #4 out of 10
Outside Magazine- America's Best Cities #4 out of 10
Kiplinger- 50 Smart Places to Live#5 out of 50
Forbes- Best Cities for Singles #8 out of 40
The Advocate- Gayest Cities #9 out of 25
CNN- 25 Best Places to Retire #9 out of 25
Until then, we invite you to take time to visit He's For Me and let us know what you think.  There is nothing odd about charting your future.  Let us help you with your journey.