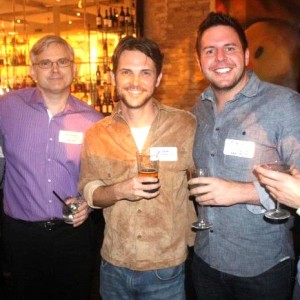 Thank you for your consideration to host the GayinAustinTexas.com Happy Hour.
As people relocate to our great city and Austin continues to grow, creating positive experiences for communities to connect are important for both the people moving here and businesses looking to reach these individuals. The experiences and relationships folks forge within the first couple of months of living in Austin often determine their feelings about our town and overall happiness in their new city.
What is GayinAustinTexas.com? 
Gay in Austin is an online guide which helps new Austinites find their place in town. We provide insight into living, working, socializing, exercising, and shopping in Austin. Through our blog, social events, real estate services, and vendor relations, gay people relocating to Austin will be provided the necessary tools for finding their way in Austin and establishing their new life. Being in the real estate industry, I consistently work with people relocating to Austin. In 2011 I started GayinAustinTexas.com because of the feedback I was receiving from friends and clients moving to town – that there is a lack of information about gay life in Austin and they felt a little lost once they moved here. As an established Austinite, I understand Austin is a city of relationships and connecting with individuals is the key to unlocking the happiness we get to experience every day.
Tell Me More About the Happy Hour… 
If you've accessed this page it is because I've reached out to you searching for a location to hold our next GayinAustinTexas.com Happy Hour. Held the first thursday of every other month, GayinAustinTexas.com brings people together for a happy hour where new folks in town have the opportunity to meet and network with established Austinites. Our goal is to hold the happy hour in different parts of town so people are able to see that life does exist outside of the warehouse district. Depending on the location, the happy hour typically draws around 50-100 guests.
I view this as an excellent opportunity for businesses to open their doors to a community that is extremely loyal towards bars and restaurants that are considerate of them. In exchange for opening your doors, and possibly providing some light complimentary appetizers, I am able to bring a group of professionals that have no problem spending money on liquor. I am also happy to consistently market your business on Facebook, Twitter, throughout the website, and in the photos we take at the event and archive on the blog.
Would you consider hosting our next GayinAustinTexas.com Happy Hour?
If so, please email me at BryanKosarek@reatx.com. I'd be happy to discuss the details and finalize a plan that is mutually beneficial. Again, thank you for your consideration!
-Bryan Kosarek
Publisher of GayinAustinTexas.com + Broker with REATX Real Estate
About Bryan Kosarek

To me, Austin is the perfect city. It combines culture and comfort, diversity and dining, and health and happiness. It is bursting with energy and filled with good cheer. The people that live here are creative, friendly, down to earth, and eclectic. That's why I've made Austin my home. The pages of this blog are filled with my insight and experiences that have allowed me to discover the many facets of Austin, Texas. Although you'll create your own journey in Austin, use this as a guide to help you navigate your way through this amazing city. I'm a Broker Associate with REATX Real Estate and publisher of GayinAustinTexas.com. Find me on Facebook Have a Question? Contact me.