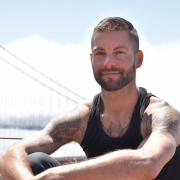 Are you single and READY to find love? We know dating in this day and age can be frustrating. While the dating landscape may seem difficult, there may also be unexplored emotions and thoughts secretly holding you back from finding the love and relationship you desire.
If dating just isn't going how you want it to go, I invite you to join us August 16th at 12 pm CST for a conversation about Unlocking Love with SF Based Life Coach, Finn Deerhart. Finn has an amazing story and is certain to shed light on things you never even knew existed, so please join us! 
p.s. – Even if you're in a relationship, you'll discover ways to communicate your needs and utilize your fantasies to bring you closer to partner-true intimacy. Due to a Q&A session at end, and wanting to be able to get to all questions, live webinar is capped at 20 guests. Reserve your spot by clicking below.

TOPICS COVERED
➨ EMOTIONS AS A ROADMAP TOWARDS CONSCIOUSNESS
Learn from the emotions you are having to identify your underlying needs
➨ CLARIFY RELATIONAL VALUES 
Participate authentically in friendships and romance so you feel better, seen, heard, and understood
➨ DEVELOP INDIVIDUAL SENSE OF SELF VALIDATION 
Learn to identify toxic patterns of validation and how you can channel that into self validation
➨ COMMUNICATE FROM A PLACE OF EMPOWERMENT & AUTHENTICITY 
Build communication skills to accurately acknowledge your emotions, needs, and wants
➨ UNDERSTAND OUR PERSONAL CAST OF CHARACTERS
Make better informed decisions with certainty and sense of knowing vs. reactive thinking
➨ LESSEN THE BURDEN OF BODY SHAME 
Move through inhibitions and enjoy unique sexual expression, learn new appreciation for your own body and release the need to perform
➨ RELAX INTO LOVE & LET IT FLOW 
Allows yourself to let love in, truly enjoy it, and feel satisfied in a relationship
➨ UTILIZE YOUR FANTASIES TO BRING YOU CLOSER TO PARTNER TRUE INTIMACY
Use fantasy as a tool to better understand self and embolden relationships, sex life, and find intimacy "in-to-me-see"
➨ FEEL AT EASE WITH CONFLICT & LEARN TO ASK FOR WHAT YOU NEED 
Navigate conflict effectively and create emotionally fulfilling solutions to deepen relationship

ABOUT BRYAN & FINN
Bryan Kosarek
Life Coach, Your Dream Life Unlocked: I work with people all over the world who are looking to live BIG lives. My goal as a life coach is to get you moving from inaction to action, from self doubt to self confident, and from fearful of the future to living in abundance in your dream life. The greatest contribution I can offer our world is being a source of light to a person navigating a new path and wanting to get the most out of life. If there's darkness, fear, or confusion on your path to happiness and success, I'm here to bring light and awareness to wherever it's needed most.
Finn Deerhart
Life Coach, FinnDeerhart.com: Relationships and sex have been the lenses through which I have studied my own life and how it relates to my culture as a whole. Intimate self-knowledge has lead me into healthier relationships and more fulfilling sex. The fragmentation and numbness I have felt in mainstream gay culture encouraged me to identify with a sense of freedom without containment, a reaction to shame shared among us since my arrival on the planet. Liberation has only begun to come as I release blame and actively seek to uncover personal truth. Finn brings 14 years combined experience in spiritual counseling, study of social anthropology, wellness coaching, and personal development.