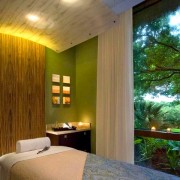 Let me take a moment to introduce you to Spa Happy Hour – a little slice of heaven at the Spa in the Four Seasons. If you're thinking this is out of your budget, don't X out of this article just yet. My friends told me about Spa Happy Hour a while back, but for whatever reason it fell off my radar. Upon searching for a place to get a massage after a stressful week, my co-worker had flyers in the office for Spa Happy Hour at the Four Seasons. I started reading –  complimentary valet, access to the eucalyptus steam room, light appetizers, a glass of sparkling wine (two if you're nice), and $50 off  a massage at one of the nicest spa's in town…DONE! I called the hotel and booked a massage for 6:00 p.m.right after work.
What I discovered was a treat that everyone needs to experience at least once – whether you're visiting or live here in Austin. Offered Sunday through Thursday from 4:00 p.m. to 8:00 p.m., stopping down to the Spa in the Four Seasons is a great way to escape for an hour or two. They have lockers where you can set your code, lock up all your clothes and valuables. In each locker is a robe, flip flops, and towels. If you're just coming from work, or heading out after your massage to meet up with friends, they have all necessities to rinse off and clean up before heading out. Part of the experience is definitely enjoying the facilities, whether it's before or after your massage. You can check out all the men's spa treatments.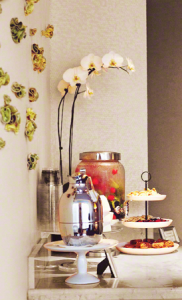 Anyone that knows me, or has dated me, knows my love for massages. The massage I got at Spa Happy Hour easily ranked as one of the top three massages I've ever received. Just because they offer $50 off, Four Seasons did not skip one detail. Before the massage started I was able to choose one of three scents (eucalyptus, spearmint + eucalyptus, and citrus) to put under my nose to keep it cleared while I was face down on the massage table. You're also able to chose beween an oil, lotion, or cream for the masseuse to use during the massage.  Prior to starting, the masseuse also checked in to make sure the music and lighting were to my liking. As far as massages go, I rank them based on three criteria: did the masseuse use any new techniques I've never experienced, was the pressure firm throughout the entire massage, and did they target the sore areas I listed before we started. My masseuse was on point with all three and the massage was amazingly relaxing. Towards the end, the masseuse also used hot rags on my back and wrapped my feet. Honestly, not a detail was skipped.
When you combine the massage with all the other features of Spa Happy Hour, you feel like you're really getting a great deal.  Did I mention you get all of this for $85? Although this is definitely a treat, it's a unique little gem that most don't know about or seek out since it's tucked away in the Four Seasons hotel. It's the little discoveries around Austin that make you appreciate the city. If you're looking to escape your day-to-day routine and relax, then call (512) 685-8160 to experience Spa Happy Hour. If you call enough in advance, it's also a pretty cool to go with a few friends for a relaxing Sunday afternoon.
To keep up with GayinAustinTexas.com, follow us on Facebook or Twitter. If you have any questions or suggestions, please feel free to contact us.