Apr 16, 2014
Comments Off

on Matthew's Easter Circus – April 20th, 2014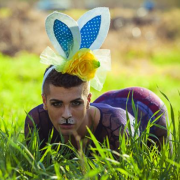 Sunday, April 20, 2014 marks this year's Easter Circus, a Cirque du Soleil-themed show taking place at Cheer Up Charlie's new location at 900 Red River, next to Mohawk bar. Hosted by Matthew Lawhon and Cyler the Easter Bunny, this spectacular one-day event will be benefitting Equality Texas, the nonpartisan advocacy group that lobbies to eliminate discrimination based on sexual orientation and gender/identity expression.
Last year's Easter Circus brought out over 400 people–and this year the number will only get bigger. On Easter Sunday, Cheer Up Charlie's will be transformed into a Ringling Brothers-worthy showcase, complete with exciting musical guests, stilt walkers, and acrobats, topped off with tickets to a prize-packed Easter egg hunt that is Faberge Fabulous!
"It doesn't matter if you're going to church in the morning, having brunch with your family and friends, or sleeping off that hangover from the crucifixion weekend– you're invited to come shrug off your woes and experience the magic of the Easter Circus," says Matthew, founder of the Easter Circus. "With the fantastic Easter Egg Hunt prizes and musical guests we have in store, you won't want to miss this resurrection celebration."
The Easter egg hunt is full of amazing prizes from local businesses including Uchi Sushi, Parkside Moonshine Bar and Grill, Bess Bistro, Jackson Ruiz Salon, Skycandy Aerial Studios, and Blue Lapis Light Aerial Entertaintment, just to name a few!
Our musical lineup will include performances from some of Austin's favorite artists including Hoiday and Sphynx. There will also be a special guest surprise appearance, as well as DJ sets throughout the circus by DJ Patient and DJ uLOVEi. They've all been preparing some exciting things for the circus, and we even got the chance to talk to Sphynx when they took a break from their national tour to answer a few questions.
Thanks for taking the time to speak with us! Now, you got your start in Austin. But for the few who perhaps haven't heard of you, tell us a bit about yourself!
We meld synthesizer music with funk and glam rock and play it as a power trio.  We've always been into creating an experience with our live performance and at Sphynx shows you'll see leather, fur, gold lame, lights, and stage props built by the band. We're on our national tour right now, and just released a new single called 'Hunger!'
Your next Austin appearance will be at Matthew's Easter circus. The party is going to be benefitting Equality Texas. What does equality mean to you?
We're really happy that Sphynx has the opportunity to play for Equality Texas. It's been great to see the momentum build around LGBT equality over the last several years. We're all excited to see same sex marriage getting legalized in states around the country. There have been some huge victories for the equality movement thanks to years of hard work from groups like Equality Texas, but there's a long way to go, especially in Texas. Equality to us means rationality. No person should be discriminated against for their identity, religion should never protect prejudice, and states can't restrict our civil rights. That precedent has been established over and over again in this country.
Have you ever been to a circus?
I think so…unless it was a dream? So, this may or may not be our first circus outside of the dreamworld.
We hear that the Easter circus is one hell of a party. What do you expect from Easter this year?
We're really glad to be asked to play this year. The line-up is stellar, we're playing with Holiday, one of our favorite Austin bands and it sounds like there will be all sorts of craziness. I've heard things about clowns, horses, and some other wild stuff to be revealed. Cheer Up's has been one of our favorite bars for a long time and this'll be our first time playing the new spot. We can't wait to play on that outdoor stage on a spring night. It's going to be magical.
Do you have any surprises in store for the Easter circus?
The Easter circus will be a debut of our complete new light and prop set-up. We'll also be playing new songs from our upcoming album and maybe some wild covers? It's probably best to come to the Easter circus to find out what sort of craziness will ensue.
There is a $5 donation benefitting Equality Texas for entry, which will enable Equality Texas to continue the invaluable work they do on behalf of all Texans. Please visit THE EVENTBRITE PAGE to RSVP for the Easter egg hunt and pre-buy your tickets. By RSVPing, you will receive exclusive perks including:
VIP door entrance
Guaranteed entry into the Easter Egg hunt
Complimentary Easter cocktails provided by Absolute Vodka
Drink tickets for White Rabbit White Ale, provided by Independence Brewing Company
Limited access to the VIP media lounge
Access to recharging stations–water, phone outlets, etc.
Food specials from participating local food trucks
The party starts at 2p and ends at 2a. We can't wait to see you under the big top!