Oct 26, 2013
Comments Off

on Meet Aaron. Austin's Mortgage Lender for the LGBT Community.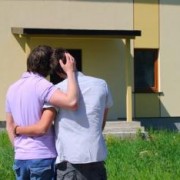 Are you looking to buy a home in Austin? Meet Aaron.
Aaron is a mortgage lender with Bank of Texas and a member of Austin's LGBT community. When getting financing to buy a home, you share a lot of personal information with your mortgage lender. You'll want to work with a mortgage lender that you feel comfortable speaking to. Aaron works for one of the most competitive mortgage lenders in the Austin and is able to offer low interest rates, can close quickly, and works with our REATX team to provide you a pain free buying experience. Offering a few products other lenders aren't able to offer, contact Aaron at 512-576-0247 to see which loan package will help you accomplish your goals when buying a home in Austin.
Start the Online Pre-Qualification Process
Download REATX's Starter Guide for Home Buyers
Price Protector Plus Program
Our Price Protector Plus Program is designed to protect a homebuyer's interest rate while they shop for a new home. Benefits of this Loan Program include:
– The homebuyer is protected with a 30-day "Free Lock" once they have contacted Aaron Lee with Bank of Texas
-The interest rate will not increase once they have received confirmation
-The homebuyer must submit a signed contract to their mortgage banker within 30 days to lock their rate with a 30 day extension
-This program is for owner-occupied, single family, existing homes. It applies to purchase transactions only and does not apply to new construction
-This program may be used for most conforming conventional and government loans
FHA Mortgage
We know that all loans are not created equal. That's why Bank of Texas offers FHA government insured loans to those who may be looking for a loan to fit their needs. Program details include:
– 620 minimum credit score required
-As little as 3.5% down payment
-No maximum income limitations
-Buyer can receive gifted funds for down payment
-Non-occupant co-mortgagors are allowed
-Fixed-Rate and Fixed-Period ARM options
-15 to 30-year term options
VA Program
Veterans can take advantage of low Government rates and great benefits with the VA loan program offered exclusively for VA eligible personnel.Program details include:
-Loan amount based on program guidelines
-30 Year Amortization
-Maximum amount of the loan may be up to 100% of the reasonable value of the property
-Eligible veterans may not have to put any money down
-No monthly mortgage insurance
-Veterans have the right to pay the loan off early without being penalized
Physician's Loan Program
Our Physician's Loan Program recognizes the special financial needs of our clients in the medical field. Benefits of this Loan Program include:
-100% loans up to $750,000
-No Private Mortgage Insurance (PMI)
-Fixed or Adjustable Rates
-15 or 30 year amortization
-Special consideration given to student loans
-Available to medical doctors, medical residents, full time medical instructors, and more
If you have any questions about what financing options are available when buying a home, contact Aaron Lee at 512-576-0247 or by email at alee@bankoftexas.com. Aaron's LO License #: 621858