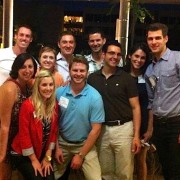 A few months back I attended my first Downtown Austin Urban Happy Hour. I've heard people talk about this happy hour and I was looking to expand my circle of friends to include a few more straight professionals, so I definitely wanted to check it out. I was a little curious how the happy hour would go since I didn't live in Downtown Austin. What would I talk about with these people? Was it more like a neighborhood meeting? I really had no clue what to expect.  I recruited one of my friends to join me and we adventured to our first Downtown Austin Urban Happy Hour at Lucky Lounge.
A Really Unique Mix of Interesting People
What I discovered was a really unique blend of people. They gave us two drink tickets (enough to warm me up to start talkingto people) and had food to snack on since people were just getting off work. Once I got there and had chance to speak with a few people, I realized this event wasn't just a small group of occupants that lived Downtown. This was a large group of folks that were passionate about Austin, people influencing the development and policies around Austin, individuals that have recently moved to town, and folks dropping by the event from outside of Downtown looking to meet new people. Now that I'm in my 30's and looking to expand my social circle outside of the bars, this was the missing piece of the puzzle I was looking for to connect with other progressive individuals.
Variety is Good
After the first event, I decided I was going to make it a point to attend each happy hour. I  It actually worked out perfect as well – the Gay in Austin Happy Hour is the first Thursday of the month and the Downtown Austin Urban Happy Hour is the second Thursday of every month. At this point I've attended six Downtown Austin Urban Happy Hours. They've been held at different venues – from downtown bars, hotels, and restaurants. Every happy hour has provided a unique experience and introduced me to new people. The second one I attended at The Rattle Inn, I actually met a neighbor that moved into a house down the street from me and is now a good friend now. On top of that, I actually found a group of professional gay guys that are very involved with the Downtown Austin Neighborhood Association.
Stepping Outside Your Comfort Zone
What I realized is attending the happy hour or social functions of other neighborhoods is a great way to meet like minded individuals around where you live. You don't need to live in that neighborhood to attend. If you're looking to meet more professionals, here's a list of websites for other neighborhood associations around Austin. Enjoy and don't be afraid to go outside your comfort zone – you never kno who you're going to meet!
Brentwood Neighborhood Association
Bryker Woods Neighborhood Association
CANPAC – Central Austin Neighborhood Plan Advisory Committee
Cherrywood Neighborhood Association
Chestnut Addition Neighborhood Association
Clarksville Community Development Corporation
Crestview Neighborhood Association
Delwood II Neighborhood Association
Downtown Austin Neighborhood Association
Hancock Neighborhood Association
Heritage Neighborhood Association
Highland Neighborhood Association
Homeless Neighborhood Association
Hyde Park Neighborhood Association
J.J. Seabrook Neighborhood Association
Judges' Hill Neighborhood Association
Martin Luther King Neighborhood Association
Mueller Neighborhood Association
North University Neighborhood Association
Northfield Neighborhood Association
Oakmont Neighborhood Association
Old West Austin Historic District
Old West Austin Neighborhood Association
Pemberton Heights Neighborhood Association
Rosedale Neighborhood Association
Rosewood Neighborhood Contact Team
Skyview Neighborhood Association
University Hills Neighboorhood Association
Wilshire Wood/Delwood One Neighborhood Association
Windsor Park Neighborhood Association