Aug 21, 2013
Comments Off

on Milago Condominiums / 54 Rainey St. 78701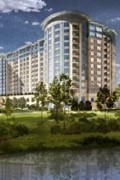 Located on the banks of Lady Bird Lake and just South of the Mexican America Cultural Center, many of my clients have said living in this condo is the next best thing to a house. Unlike a lot of the other condos Downtown, you walk out the door and you have instant access to green space. Especially if you have a dog, no more having to take your pooch to the 1′ x 1′ spot of grass to use the bathroom.With 13 floors and 240 units, this is one of the large condo buildings in town. Although it does have a slight hotel feel to it, a location like this will be hard to duplicate. Whether you prefer to workout indoors or outdoors, the amenities around this condo building will make any active person happy. Austin's new boat house and the Waller Creek Riverwalk  is just a short walk from this condo as well.
Active Milago Condo Listings
We're sorry, but it seems that we're having some problems loading MLS data from our database. Please check back soon.