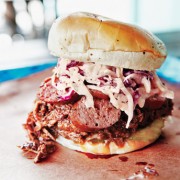 Although I didn't start this blog to become a restaurant critic, I do like sharing my list of favorite restaurants to check out if you're visiting Austin. If a restaurant has made this list, it either offers a really cool experience or will offer you some of the best food in Austin. I encourage you to visit Yelp and read other's reviews for these restaurants. From gourmet food trailers to nationally renowned chefs, Austin definitely has one of the best food scenes in the country. So choose a few restaurants for your trip and check them out!
BBQ:
Franklin BBQ – Try their brisket and pulled pork! Try to get there before 11:45, if not earlier.
Stubb's – Awesome gospel brunch! Make your reservations early.
County Line on the Lake – Nice ride through the Hill Country and restaurant sits on river.
Salt Lick – Long drive, but they spend a lot of time cooking their meats. No real side dishes.
Tex-Mex:
ZTejas on 6th
Vivo
Polvos
Hula Hut
Interior Mexican:
Fonda San Miguel
"Natural" American:
Congress Austin
Second Bar + Kitchen 
Wink
Roaring Fork
Hudson's on the Bend
Japanese:
Uchiko
Thai:
G' Raj Mahal
Thai Passion
Indian:
Clay Pit
Authentic Italian:
Vespaio
Enoteca
Cheap Italian:
Mandola's Italian Market
French:
Justine's Brasserie 
East Side Showroom – Awesome atmosphere, love their drink selection, good for after dinner beverage.
Steaks:
Eddie V's on 5th St.  – Sit in the Lounge and listen to the jazz trio! Full dining experience.
Hamburger:
HopDoddy – Expect a wait!
Hut's Hamburgers
Hot Dogs:
Frank
Late Night:
24 Diner
Magnolia Cafe
Kerbey Lane South Lamar – always an experience!
Pizza:
Homeslice (NY Style)
Hoboken Pie (NY Style)
East Side Pies (Thin Crust)
Brunch: See Best Brunch Spots in Austin
Breakfast:
ZTejas on 6th
24 Diner
Austin Java on Barton Springs
Coffee:
Jo's on South Congress
Halcyon Lounge
Desserts:
Whole Foods World Headquarters
Mozart's on the Lake
To keep up with GayinAustinTexas.com, follow us on Facebook or Twitter.  If you have any questions or suggestions, please feel free to contact us.
Photo Credit: Franklin's BBQ