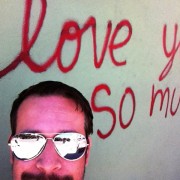 This was my first Valentine's Day that I spent in a relationship… with a city.
Here's this place: everybody wants to hang out in, live with, talks fondly about… and I have only gotten to watch this play out from afar. So now you can imagine what kind of lucky guy I feel like when I find myself in a new partnership with Austin too. And, to top it off, this isn't just a once-a-year kind of thing – this relationship has been sweet every day for the last six months. *sigh*
As a creative dude, I find that most of my observations about why I have fallen hard for this city are usually in photo form. You got to admit, Austin's pretty darned hot to look at. Shooting pictures of Austin's most interesting parts has seemed non-stop from the moment we met. So today, Thursday, February 14th, 2013, I decided to photograph a couple of my favorite parts to share with you… I mean, what's a relationship all about if you can't shout it out loud for everyone to know, right?
So, perhaps you're thinking now, wow, maybe I feel this way about Austin, Texas too. I believe it. That crazy back and forth of wanting the best for the one that you love, protecting them, showing them off to friends and family, bragging about their accomplishments, being proud of how they grow and mature… in fact I am pretty sure it must be love.
-RS