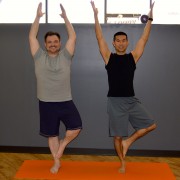 I need to start this blog post off by stating that I'm biased. Biased yet truthful (because if I weren't you wouldn't trust my future posts). A few weeks ago I took my first yoga class with Adam of Atom Flow Yoga over at ToddPilates. Adam and I have been friends for almost 9 years, hence the bias part.
Now let me say that knowing Adam for nearly 9 years, I kind of expected this peaceful Zen like class. No, no not at all. Sweet, sweet Adam kicked my butt and he did it in such a way that I didn't know he did until the next day. I felt such a great sore in places I didn't know I could feel sore. It was exhilarating! And the music he played was just as unique as his practice. But what I really liked about doing yoga with Adam is that he was moving about the room checking in with all of us. I'm no seasoned yogi but I've been to enough classes to notice that some instructors just stay at the front of the room and don't really engage with their students. It can be a little self conscious trying to get into some of those poses. But having an instructor like Adam makes it much more enjoyable and beneficial.
I wanted to write about Adam in GayinAustinTexas.com for two reasons. First, I loved his yoga class. But second, the class was free as part of the Hill Country Ride for AIDS. Earlier this week, I wrote a post called Give to Get and as a former Volunteer Coordinator I think it's super important to get involved with your community and donate and acknowledge those that give back to the community like Adam is. Now you don't have to be a rider or runner to take advantage of the classes*, for a full schedule, click HERE.
Namaste!
*As I mentioned, you don't have to be a rider or runner but if you're interested, you can sign up to do either at http://www.hillcountryride.org. You can also sign up to be a volunteer or a donor if riding or running is not your thing!