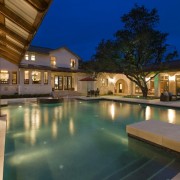 There's two organizations I'm committed to supporting in Austin – Out Youth and Equality Texas. There's a lot of great organizations in Austin, but I feel our obligation is to making sure the LGBT youth are protected, educated, and given the confidence to strive and grow in Texas and beyond. It is our job to lead by example, be positive influences for LGBT youth, and give them the opportunities we were not given to grow with confidence from the beginning. By attending Glitz 2012, and supporting Out Youth, you're letting LGBT youth know that people care about THEM and THEIR FUTURE.
Investing in the Future – Out Youth's Annual Fundraising Gala allows them to continue their work and dedication to Central Texas' LGBT Youth through education, counseling and support groups, and community programs.
Out Youth presents Glitz, our annual fundraising gala, where community members come together to support LGBT youth in Central Texas. Glitz 2012 will be held on Saturday, October 20th at the beautiful home of Cord and Annie Shiflet. The evening will begin at 8:00pm featuring cocktails courtesy of Grey Goose Vodka and sweet and savory hors d'oeuvres. Complimentary valet will be available, and a photographer will be on site to capture candid shots of you and your friends enjoying a glamorous night under the stars. Get your tickets today and support LGBT youth in Central Texas!
Tickets: Regular admission tickets are $45, we will also offer $50 door tickets should any tickets remain, though you are highly encouraged to reserve your place at this event by purchasing online today! We are also offering a special VIP level ticket for $150 (or $250 for couples). This will include a private VIP cocktail reception from 7pm to 8pm, donor recognition as a Glitz Star, and a gift bag to commemorate the night.