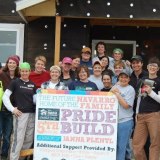 Austin LGBT Volunteers to Raise Funds and Build Sixth Habitat Home
The Austin LGBT Community is gathering funds and volunteers to construct its sixth annual home for Austin Habitat for Humanity. Raising its first roof in 2007, the Austin PRIDEbuild is the longest-running LGBT build in the country and where it once focused solely on affordable housing, it now focuses on building community – both in terms of neighborhoods and networks.
"We started years ago to see if we could come together to build a house for a deserving family," said Shawn Muncy, volunteer site lead for the Austin PRIDEbuild. "What we built instead was a community – a family really."
"Austin PRIDEbuild 2013 is focused on fun, friendship and changing lives," said Marla Coffee, 2013 chair of the Austin PRIDEbuild committee. "My family got involved because we could make such a difference in an inclusive environment. I'm thrilled to lead the team this year." She encourages everyone to get involved. "If you're ready to have fun, meet great people and make a difference, join us!"
The wall-raising for the 6th Annual Austin PRIDEbuild is planned for late March with fundraising efforts already underway. "We're hoping to raise the funds for the building materials by the end of March," said Coffee. "Every donation matters, not only to PRIDEbuild and to Austin Habitat, but to a very deserving family.
Austin Habitat for Humanity homeowners earn 60 percent or below the median family income, prove a credit score of 560 or higher, demonstrate steady employment and proof of rental for one to two years. Once in the program, partner families put up to $500 cash into their home and work off the rest of the down payment in "sweat equity" hours, building others homes before they start on their own. Once the homes are finished, they aren't free. Each homeowner buys the home with a zero-interest, 30-year Habitat mortgage.
"This program is really a hand-up, not a hand out," said Kelly Weiss, Executive Director of Austin Habitat for Humanity. "Austin Habitat is proud to work with the LGBT community to address one of the biggest needs facing all Austinites today; affordable housing." She added, "We believe an affordable, decent place to live is the very foundation of a healthy community. It takes all of us to make the dream of homeownership a reality. We're thrilled the LGBT community is working with us to build homes, community and hope."
All community organizations, corporate groups and individuals are welcome to become members of the Austin PRIDEbuild coalition. Each member is requested to raise funds to support the construction and recruit volunteers for the actual build. The Austin PRIDEbuild house will be one of 30 Austin Habitat for Humanity homes built in 2013. Austin Habitat raises at least $65,000 per house to cover building materials and contributes approximately 1,800 hours of volunteer labor for each home.
To make a donation to the Austin PRIDEbuild, please donate online at www.pridebuild.org. For more information on the Austin

PRIDEbuild, please contact Austin Habitat at 512-472-8788 x 408 or www.austinhabitat.org.