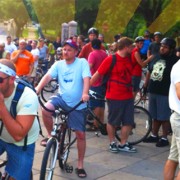 Grab your bike, helmet, a blinking red light, and brush up on the Rules of the Road in Austin because Team ProHomo is going to take you for a ride. If you're new to town, Queer Ride is a great way to get out and explore the city while meeting new people. Currently (as of 6/8/2012) the Queer Ride is being held on a weekly basis and meets at the Capitol on Wednesdays at 7:00 p.m.. The organizers like to mix up the rides every once in a while by adding a theme or different route, or end the ride at an event that is happening on the same day. In the past they've done a house hop route, biking before Drag Queen Bingo, and a bike to Barton Springs for their free swim from 9-10 p.m. The ride typically averages around 8 miles, plus or minus, and Team ProHomo will provide a map of the route online before the ride.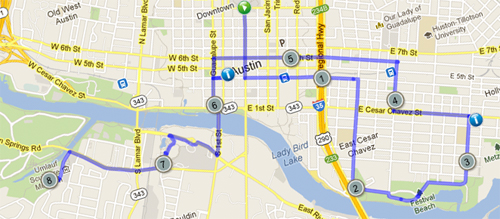 (Sample Route from Previous Queer Ride)
The goal of the ride is to provide a positive, active community environment as an alternative to bar/club hopping. Queer Ride is a friendly drop ride, where anyone can show up (no registration), and is open to the whole queer community and their allies.
If you're visiting Austin and want to join the Queer Ride, you can rent a bike from the following locations: Barton Springs Bike Rental, Waterloo Cycles, and Jack & Adam's Bicycles
For more information you can message Brett Douglas, one of the organizers, or visit their website http://teamprohomo.org. You can also search Queer Ride or Team ProHomo on Facebook to check out current events.
Other Social Rides in Town
If you're interested in joining additional social bike rides around town, there are a few other rides to consider.
Bicycle Austin
Austin Texas Bike Shit
For more information about biking in Austin, check out:
Austin Cycling Association
Austin Cycling News
Austin on Two Wheels
To keep up with GayinAustinTexas.com, follow us on Facebook or Twitter. If you have any questions or suggestions, please feel free to contact us.