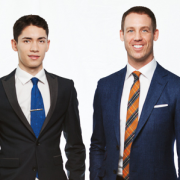 We're taking our Austin real estate team, and the blog GayinAustinTexas.com that we publish, to the next level! We are looking to add one exceptional real estate salesperson to the team in Austin and we need YOUR help in finding that person.
Finding the right real estate salesperson can be a difficult task , so we're turning to the people that know us best to help accomplish this task! What is the reward for introducing us to the person we add to our team? If you introduce us to this person, we will pay you 10% of our newest team member's income for the next year.
So you understand what we're looking for to be successful on this endeavor, we're going to give you a little insight into what we're looking for in our newest teammate.
As a licensed real estate agent for our team, you'll work with the team leader and other team members to turn sales leads into closings. If you're a motivated, hard-working individual with "above and beyond standards", and want to grow your real estate business in 2016, then this is the perfect real estate team for you!
About Team/Company: REATX Real Estate can be best described as a lifestyle marketing company with unique media and web partnerships that reach buyers and sellers other firms cannot.  A company with several bloggers, REATX is home to websites like GayinAustinTexas.com, DowntownAustinBlog.org, AustinTowers.net, and several other sites which allow us to connect with different audiences. Bryan Kosarek, the creator of GayinAustinTexas.com and the team leader of The Kosarek Team, developed the site in 2011 as a way to connect with people in Austin. Since then, it has grown to over 130,000 visitors a year and is host to one of the largest LGBT networking events – the GayinAustinTexas.com Happy Hour – which attracts close to 100 new and established Austinites every month.
Sales Position: This role with the sales team will work directly with the team leader, Bryan Kosarek, to expand the reach of the GayinAustinTexas.com, create new content, and expand the real estate services we offer our readers and clients. This role requires an individual that is creative, takes charge, and is disciplined. With access to over 80,000 readers per year and close to 100 people at our event, this is a great opportunity for a real estate agent looking to take their business to the next level on connect with Austin's LGBT community.
How to Apply: To apply for the position, please send your resume to BryanKosarek@reatx.com. All applicants must have one year of experience and a Texas state issued real estate license. In addition to sales experience, please make note on your resume if you have any unique skills that would support the growth of the blog.
Responsibilities:
Create and maintain excellent relationships with our customers
Generate new sales leads through a variety of methods (blogging, networking, prospecting, referrals, open houses, expired listings, FSBO)
Work with customers throughout the entire sales cycle, from showing homes  to closings
Communicate with customers in their preferred style and frequency
Utilize team systems to track leads, customers, listings, contacts and all activities in order to drive sales and meet the team goals
Work with other team members to ensure individual and team sales goals are met
Maintain strong knowledge base of local real estate marketplace
Desired Skills and Expertise:
State-issued real estate license
Previous real estate experience in Austin required (at least 1 year in sales)
Superior customer service skills
Excellent written and verbal communication skills
Strong Computer Skills
Familiarity with mortgage processes and procedures
Uphold Team culture, integrity and vision
Other Desired Skills & Experience: Motivated, Take-Charge, Confident, Punctual, Decisive, Disciplined, Flexible, Polite, Intelligent, Organized, Multi-Tasker
Who do you know that is looking to grow their real estate career in 2016? Help us grow and we'll thank you for helping us find that person!