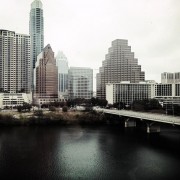 In today's Wall Street Journal there's an article by Kevin Callahan, co-founder of MapMyFitness on how to make the most of SXSW here in fabulous Austin, Texas. His three tips are . . .
Come with a plan
Enjoy the local scene
Introduce yourself
I want to focus on introducing your self. In fact I think the best way to remember how to network is to remember to put your S-E-L-F out there.
Survey
Before you start talking, pay attention to what's going on around you. Take note of body language and other non-verbal cues. When possible, listen to the conversations around. Always remember to observe people's concept of personal space and be aware of how close individuals may be standing next to one another. The conversation clearly may be intended for just the two of them.
Enter into a conversation
Once you have surveyed the room and identified possible opportunities, enter into the conversation. Start by making eye contact and project a warm and friendly smile. These two characteristics project trust and show confidence, even if you are not feeling that way. When beginning a conversation, pick a topic that is relevant to the current discussion or at choose something interesting. When all else fails and you're at a loss, just introduce yourself. Your goal is to be natural and have a friendly interaction.
Listen
Although you're there to make contacts and new friends, it is important to be remembered as the person who listened instead of being the blabbermouth. There are two advantages to listening. First most people enjoy talking about themselves so it allows them to relax more into the conversation and second it gives you an opportunity to learn more about them and find out ways you will be able to work together in the future.
Follow-up
Within 24-hours of your networking opportunity, follow-up. Send an email, write a hand written note or send an article of interest to the topic of conversation.  Be sure to thank them for their time, tell them a little bit more about you and what you do and include a reason for them to take action to follow-up with you too. Most importantly, remember to be sincere and make it personal.
For more on what's going on with SXSW from an LGBT spin, check out this link from our friends over at the AGLCC and The Agenda & The Austin Chroncle. And to read Kevin's suggestions in detail, click here.