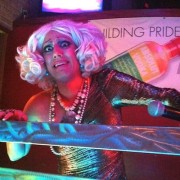 I was introduced to Drag Queen Bingo (official name: Shitty Kitty Big Ball Bingo) a month ago and I have to say I was quite impressed! I'm not necessarily the biggest fan of drag queens or gay bars, but it was actually hilarious and entertaining. Held the last Wednesday of every month at Rain on 4th St., Rebecca Havemeyer (website – Facebook) takes your standard ol' bingo to a whole new level! Drag Queen Bingo combines a comedy show, bingo, arm wrestling, and a chili bar all in one. If you've recently moved to Austin or have yet to experience Drag Queen Bingo, I'd like to share my experience with you.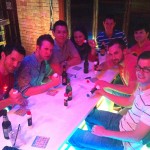 My friends and I started the night at Hangar Lounge with a few drinks to get warmed up for the event we were about to encounter. We left Hangar Lounge around 8:45/9 p.m. to head over to Rain and reserve a table for ourselves. We had a group of nine folks, which was pushing the table size…but we all managed to fit. Drag Queen Bingo filled up pretty quickly, so I would definitely recommend getting there early.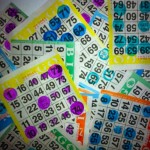 There's no costs to play Drag Queen Bingo. When you arrive at Rain on 4th St. you grab a pack of bingo sheets from the main table. Rain provides the dabbers, so all you need to do is grab your pack of bingo sheets, a beer, a bowl of chili and head to your table. Once you're all set up – enter Rebecca Havemeyer and let the shit show begin!
If you've never heard of Rebecca Havemeyer, she's an entertainer here in Austin. Rebecca describes herself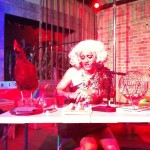 as an "ageless bastard with a heart of gold from the boozy bygone Hollywood years." A classic lady with a filthy mouth, we didn't stop laughing throughout the six rounds of bingo. Her jokes were only half of it. When two (or three or four) people would yell BINGO, people would duel it out to see who got a chance to pick a bag of surprises.
Depending on who yells BINGO, it can get pretty interesting. Gay vs. gay, lesbian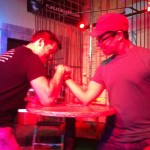 vs. gay, lesbian vs, lesbian, or gay/lesbian vs. straight – it's anyones guess! Once you win, Rebecca has six bags the winner can pick from. All bags are filled with gifts for the winners except one bag – the bag filled with…you guessed it…Shitty Kitty stuff. Hopefully you're not the winner that picks that bag. If you did, it's a pretty crappy experience! And there you have it! Shitty Kitty Drag Queen Bingo! You'll laugh, probably cry (from laughing too hard), and there's a chance you'll let one slip if you're eating chili from the chili bar! Oh, and they also sell raffle tickets to support different organizations. If you're the winner of the raffle, you get half of the pot from the money that is raised! It's a good time for everyone and worth checking out at least once…twice…or maybe three times?