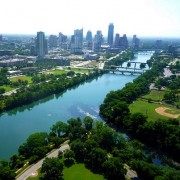 If you've stumbled upon this page, my guess is you're considering a move to Austin. You're probably sitting at your office desk, in your house, or in a coffee shop contemplating your next move in life and asking yourself "should I move to Austin? Will somebody just give me the answer!" Let me start off by saying yes. Yes, you should move to Austin. Now that we have that out of the way, let me explain why making the move to Austin is the right move.
If you're like me, you're at a point in life where you have friends moving to places like New York City, Chicago, San Francisco, and Los Angeles. While obviously you support them because you get to go and visit, large cities aren't necessarily for everyone. At the end of the day we all need to build a life for ourselves. Preferably a life where we can purchase a home, enjoy outdoor space, have access to world class entertainment, travel often, and be happy at the end of the day. Although Austin is not New York City or Los Angeles, Austin will offer you a life that 80% of the population could only dream of. If you're considering a move to Austin, here's a few things to consider.
Quality of Life
With a population of just over 1.25 million (2010), Austin is a mid-size city which provides a lot of the amenities of a larger city, but with less hassle and congestion. Sitting on the Eastern edge of the Texas Hill Country, Austin offers the terrain and outdoor activities that no other large Texas city can. Actually, that very few cities in the United State can. Home to one of the best universities in the nation, the Capitol of Texas, and some of the best live music venues in the world, Austin is a laid-back, easy-go-lucky, type of town. Centrally located, Austin is a quick flight to the East and West coast, Midwest, Mexico, and South America. With the pro-business climate that Texas provides, we're seeing many large companies re-locating to Austin. While most cities in America are loosing people, Austin has consistently seen its population double every 20 years. There's no secret to why people are moving to Austin. They're moving here to enjoy the quality of life Austin provides.
Weather
With over 250 days of sun, the people in Austin are pretty happy. It's not rocket science. The weather impacts your happiness, productivity, and lifestyle. The people that live in cold, grey climates tend to be not as happy and active. In cities like Seattle, there's a direct correlation between the number of days of sun and suicide rate. In cities like Austin, people are described as happy and friendly, fit, and entrepreneurial. The weather does influence your life and choosing to live in a city like Austin will have a positive impact on your daily routine. Learn what the weather is like in Austin through out year.
Jobs
Economic globalization is prompting a new geographical entity throughout the world, the megaregion. As global business becomes more competitive, states that have megaregions will lead the way. Areas like Texas, California, Florida, and the East Coast will have the tools and resources to attract talent, companies, and jobs. Texas has one of the ten emerging megaregions in the United States initially identified by the University of Pennsylvania. Austin is part of the Texas Triangle Megaregion which consist of Austin, Dallas/Ft. Worth, Houston, and San Antonio. As Texas positions itself to compete in the global market, you'll continue to see each city establish
Work in progress…Article will be edited and completed soon. In the meantime, you may benefit from some of this information.