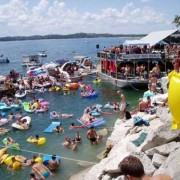 In honor of the video "Sh*t Austinites Say", we've compiled the list of "Sh*t Gay Austinites Say." These statements are not directed at any individual. But we did want to poke a little fun at the sometimes cliche statements we hear on a regular basis in Austin, Texas. 
It has to rain so that the lake will fill up.
This is the lowest I have ever seen the lake.
The water is normally like up by those rocks up there.
Ugh, he's from Dallas.
Ugh, he's from Houston.
Ugh, he's from San Antonio.
Oh, he's from Seattle.
Let's do happy hour!
Happy Hour at 219!
Let's do brunch!
Brunch at Taverna.
Bottomless Mimosas!
These margaritas are so strong! I'll have one more!
You know, you can only have two Mexican Martinis, right?
I guess it's for some gay cause.  But they have an open bar, and it's fun.  I go every year.
Have you bought your tickets yet?
Buy your tickets now!
We're having a party.
Guess who's having a party.
We should have a party!
We're throwing a theme party!
Did you get invited to that theme party?
Let's go to Kerby.
Let's go to Magnolia.
We have to get the Mag Mud.
I woke up this morning and my trash can is FULL of Whataburger bags.
There are so many hot guys at 24.
I think all the guys at Gold's are gay.
Pure is totally worth the cost.
Do you remember Boyz Cellar?
Do you remember Fabric?
Let's go lay out at Barton Springs.
Let's go lay out at the W.
Let's go lay out at 360.
We have sooo many people staying with us for South By.
What are you doing for South By.
OMG- I love South By.
Ugh, I hate South By.
The Fader Fort line is sooooo long.
We got in to Perez!!
I saw her at South By.
There are so many out-of-towners here tonight.
Kiss & Fly is so gross.
I don't want to go home. Let's go to Kiss & Fly!
We just went to Kiss & Fly and it's TRAGIC!
I only drink with Texas.
I only drink with Tim.
I only drink with Scottie.
I only drink with Jonathon.
These drinks are so strong.
I think it's all vodka, and he spilled a little soda in there.
Have you ever been to Chain Drive?
I love Kylie.
I love East side hipsters.
I love a UT frat boy.
We should take a road trip to Marfa.
I ride my bike everywhere.
IT'S TUEZGAYZ!
I. LOVE. BARBARELLA.
I. HATE. BARBARELLA.
I only shop at The Domain.
I heard we're getting an H&M.
I just saw the hottest body on the hike and bike trail!
There's SOOO much eye candy at Whole Foods!
I love HEB.
I only shop at Whole Foods.
He just moved here from Louisiana! ….Ohhh. You know him too?!
I'm not eating solid food until after Splash.
I bought the cutest bathing suit for Splash.
Whose boat are you on for Splash?
I work in real estate.
I work at a hotel.
I work at the W.
Try to park on Fourth.
There's never parking near Fourth.
Park at City Hall.
Let's park at the Gay-raj.
Where did we park?
I'm fine to drive.
We're only driving a few blocks.
Let's take a pedi-cab.
We had the hottest pedi-cab driver.
Why do pedi-cab drivers smell so bad?
We're going to his ranch.
They have a lake house.
He lives in Westlake.
Tiesto is gonna be at Austin Music Hall.
Deadmau5 is playing at Stubbs!
We have tickets to Kathy Griffin at The Long Center.
We should do Muddy Buddy.
I'm training for the Austin Marathon.
I'm doing Crossfit now.
I have boot camp tomorrow.
It is so dead in here.
Oh, another strip off.
When did it get so crowded in here?
I have a VIP card to get in the back.
How do you get a VIP car?
I love Deep Eddy vodka.
It is sponsored by Tito's.
Oh my god, they have a photobooth!
That mustache looks so good on you.
I love your tattoos.
We're taking her to the dog park.
You can take your dog anywhere.
You looked great in Tribeza.
He's on the cover of L Style/G Style.
They're already having another L Style/G Style party?
ACL was so hot.
ACL was so muddy.
ACL was so dusty.
What are you bringing to Gay Thanksgiving?
When are they going to bring back the Trail of Lights?
Oh yeah, everyone knows he did porn.
Oh, what's his porn name?
They're at the Gay World Series.
Did he play for the old Shady Ladies or the new Shady Ladies?
The back porch is so crowded.
The front bar is so crowded.
I hate bachelorette parties.
Who let those straight girls in here?
I heard Ryan Goslings here!
Twitter says Jake Gyllenhaal is running the trail!
Did you know this is Sandra's restaurant?
We turned around and we think we missed the pride parade.
I guess you can call that Art.
I guess you can call that Erotic.
We're so the blue dot in the red state.
Rick Perry, that closet homo.