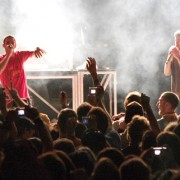 With over 300,000 people visiting Austin for the annual South by Southwest (SXSW) Music, Film, and Interactive Festival, this is one of the largest festivals in the country. Happening over the last two weeks in March, this is a great opportunity to hear some of the best bands in the world, discover new ones, listen to the most influential speakers in the tech/social media industry, and immerse yourself in the art and business of independent film.
Whether you're visiting Austin for the festival or just in town to hang out with friends, you'll want to start planning your trip as quickly as possible. If you'd like a locals insight into where you should eat, sleep, and party, then look no further! If you've recently moved to Austin and this is your first SXSW experience, we definitely recommend asking some friends to show you the ropes. Either way, fasten your seat belt and enjoy the ride because South by Southwest can get insanely crazy!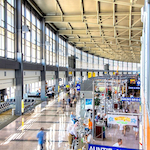 Arriving in Austin
If you're flying into Austin, you'll be arriving at the Austin-Bergstrom International Airport (ABIA). If you're not able to catch a flight into ABIA, you can fly into the San Antonio International Airport, which is an hour away, and rent a car to drive up to Austin. Another way to commute to Austin is to take the Amtrak Train. Although this will take a little longer, there is a stop on the West side of Downtown. Once you get into ABIA or Downtown Austin, there will be plenty of forms of transportation to get you into and around town.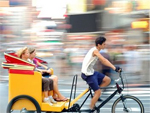 Transportation
When it comes to getting around town, you have plenty of options. Some may require a little planning and others you'll just catch right on the street. Here's a list of the different options you have for commuting around town and a few unique ways you may have not considered.
Bus: If you're on a budget, taking the Capital Metro Bus Route 100 will be the easiest way to get you from the airport into city center to experience SXSW. Would you like to use the bus to get around town? Here's the complete bus schedule and route planner tool.
SuperShuttle:  The SuperShuttle Airport Service is probably the easiest and second cheapest form of transportation to get from the airport into Downtown
Austin. You can either pay for a trip online or stop by their counter at the airport in Austin. SuperShuttle will take six people in their van and drop each person off at their desired location.  If you're rushing to get into town for an event, this may not be the quickest way to get there.
Regular Taxi's: If you're looking to get into Austin as quickly as possible to start enjoying the SXSW Festival, then a taxi will be your best bet. Once you get outside of the airport, you'll find the taxi station and you can wait in line there for a ride. Unlike other cities, the taxis rates in Austin are pretty reasonable. You can also call ahead to have a taxi pick you up to take you back to the airport. Yellow Cab or Austin Cab are the two biggest cab companies in town. If you have a smart phone, you can also access the Taxi Magic App to immediately reserve a cab.
Land Yacht Karaoke Taxi Cab: If you can book the Land Yacht Taxi Cab, I highly recommend it! Decked out with black lights, neon prints, and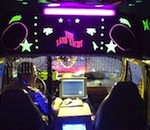 a karaoke counsel, this is the ultimate way to commute around the Live Music Capital of the World. Although I'm sure this guy gets booked pretty quickly, it's worth a try and the same rate as a regular taxi cab.
Rental Cars: Like most airports, there are plenty of rental car companies at the airport. We highly recommend reserving a car prior to arriving in Austin, but you may be able to pick up one of those lovely VW beetles or other slightly emasculating cars if you don't have a reservation . For a list of rental car companies at the Austin airport, click here.
Light Rail: Depending on where you're staying, there is the Capital Metro Light Rail the goes from the Convention Center/Downtown Austin, through East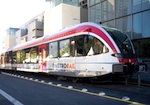 Austin, up through North Central Austin, and ends in far Northwest Austin/Cedar Park. The light rail does not connect to the airport at this point, but you may be able to take this in and out of Downtown if you're staying with a friend or family member that lives further out. To determine if you're staying by a station, click here.
Party Bus: If you're looking to get a group together and drive around to different parties for South by Southwest, you may want to consider getting a party bus. There are several companies that have very colorful buses and will drive you around all night. We recommend Austin's Best Party Bus, R&R Bus, and Cherry Bomb Party Bus.
Bike Rental: If you're coming from a colder part of the country, you may not have considered renting a bike to get around Austin during South by Southwest.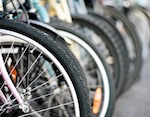 The temperatures are pretty mild during the last two weeks of March, so renting a bike will allow you to easily get around town and through areas that have heavier traffic. Some bike rental companies may rent by the day or for the weekend. If this is something you'd consider, we highly recommend reserving a bike prior to your arrival and as soon as possible. The companies we suggest you check out include: Barton Springs Bike Rental, Waterloo Cycles, and Jack & Adam's Bicycles.
Pedicab: If you're staying around Downtown Austin, the pedicab may be one of the easiest ways to commute around town with all of the South by Southwest traffic. You can typically walk to a busy intersection in Downtown Austin and find a pedicab. Pedicabber's typically work on tips, but there may be a fee since this is a busy weekend.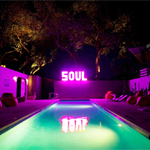 Lodging
From couch surfers to luxury hotels, you'll find SXSW guests sleeping anywhere they can rest their heads. If you can make it to Austin and find a place to sleep, there's plenty of free events and parties to attend that will allow you to enjoy the SXSW experience. If you haven't booked a place to sleep yet, here are a few ideas for you to consider.
Hotels: Hotels are the first to fill up during SXSW. Hotels will give you the opportunity to be be in the center of the SXSW action and allow you to interact with all the other festival goers in the city. A boutique hotel will give you the best Austin experience, but you'll probably be in for a treat no matter where you stay during SXSW. Here's a list of a few hotels that will be close to the action.
Boutique: San Jose Hotel, Hotel St. Cecilia, Heywood Hotel
Four to Five Star: W Hotel Downtown, Hilton Hotel, Driskill Hotel, Intercontinental Hotel, Four Seasons Hotel, Hyatt Regency Hotel, Omni Hotel Downtown
Three Star: Hampton Inn Hotel, Embassy Suites, Residence Inn by Marriott, Courtyard by Marriott, Sheraton Hotel, La Quinta Inn on 12th St., Holiday Inn Townlake, Radison on Townlake, Double Tree Guest Suites, Double Tree University
Two Star: Homestead Austin Downtown, Days Inn University Downtown, Super 8 Downtown Austin
Bed and Breakfast Inns: With over 16 bed and breakfast inns around Austin, this could be a cozy way to experience South by Southwest. Although you won't have the ability to get too wild in a B&B, it may be a great alternative if you are not able to book a hotel or are looking for lodging with a little more charm.
Vacation Rental: One of the most unique ways to experience Austin is to stay in a vacation rental home. These are typically homes that local Austinites own,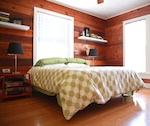 but rent out if there's a big event in town or they're heading out of town for a weekend. This will allow you to stay in a neighborhood and experience the city the way the locals do. The best websites to visit when looking for a vacation rental include AirBnB.com, HomeAway.com, Craigslist.org, and VacationRentals.com. The only thing to remember is you are staying in a persons home and a residential neighborhood. Be respectful of the home and neighbors that live around your house.
Couch Surfing: If you're just looking for a couch to crash on at the end of the day, you'll probably be able to find an Austinite willing to let you stay on their couch. Looking on the housing section of Craigslist.org or CouchSurfing.org would be the best way to find a couch in Austin. Posting a message on Facebook to see who has a friend in Austin is also a great way to find a place to rest your head.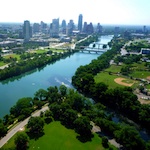 Best Neighborhoods to Stay in During SXSW
The epicenter of action for the South by Southwest Festival is the Austin Convention Center and Auditorium Shores. Although events are happening all over Austin,  we highly recommend you stay as close to Downtown Austin as possible for the true South by Southwest experience. Here's a list of neighborhoods for you to consider when choosing where to stay:
Downtown Austin (78701): You'll find yourself close to the convention center, bars, and major venues where events will be happening. Downtown is easy to walk around and you can catch a taxi or pedicab to get anywhere you need to go. You'll probably be staying in a hotel if you're Downtown.
East Austin (78702): Home to hipsters, artsy folks, and young professionals, there's always a bunch of unofficial SXSW shows happening around East
Austin. Because of its proximity to Downtown, this is a great neighborhood to stay in if you have friends on the East Side. There's one boutique hotel and a few larger hotels closer to I-35, but you'll probably find a vacation rental or couch to crash on in this part of town.
Clarksville (78703): Located on the West side of Downtown, Clarksville is a neighborhood that overlooks downtown. Although there's not a lot of SXSW activities happening over here, this neighborhood provides easy access in to Downtown. There are a few bed and breakfast inns around Clarksville and there should be plenty of vacation rentals.
Travis Heights and Bouldin Creek (78704):  With Travis Heights on the East side and Bouldin Creek on the West side of South Congress Ave., staying in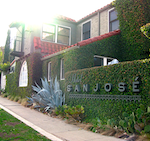 one of these neighborhoods will give you easy access to one of the best avenues in Austin. Located just South of Downtown, South Congress Ave. is home to some of Austin's most well known restaurants, shops, and venues for SXSW. The San Jose Hotel, which is located on South Congress Ave., puts on the South by San Jose Party. If you're staying in Bouldin Creek, it is located South of Auditorium shores which is where some of the larger concerts for SXSW happen. There's one boutique hotel on South Congress Ave., a few hotels close to the river, and plenty of vacation rentals in the 78704 area code.
Dining
We don't typically cover food in this blog, but there are a few restaurants we suggest you check out while in town. Here's our "Must Try" List  of Restaurants to Visit While in Austin.
SXSW Planning Tools
With close to 2,000 band and over 89 stages during SXSW, it's easy to get overwhelmed during SXSW. Other than having a friend help show you the ropes, there are a few tools you can use to plan your SXSW schedule. The South by Southwest website offers a lot of tools and you should definitely explore their website. They also provide a tool that allows you to search registrants and meet attendees that have similar interest. If you don't know anyone, this may be a good way to meet a few new folks. They also provide a SXSW mobile app that allows you to view your schedule, maps, and all the shows happening around town. Grindr is also a great tool to chat with people around you to see what is happening around town.
Clubs: If you're looking to break away from the SXSW events to check out the gay bars in Austin, then you'll want to check out our Gay Bar Guide to Austin.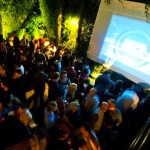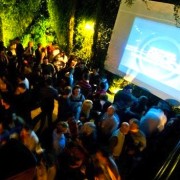 Although the bars will have more people than normal, don't expect the clubs to get packed until 11:30 or 12 p.m. People will be out attending all the SXSW concerts, parties, and events happening around town. But don't worry. Give it a little time and people will start flooding into the bars.
There will be additional events listed as it gets closer to SXSW 2012. 
To keep up with GayinAustinTexas.com, follow us on Facebook. 
Photo Credit: South by Southwest Crowd, Beastie Boys at SXSW, Pedicab, Aerial of Austin, Vacation Rental, East Side Show Room, San Jose Hotel, Perez Hilton's SXSW Party