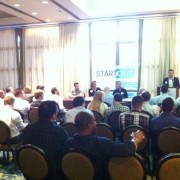 Austin has become a thriving epicenter of startup activity due to its accessibility, culture and maybe a little help from SXSW. In 2012 it was ranked as one of the top twenty startup ecosystems in the world by the research firm, Startup Genome, that analyzed data from over 16,000 startups. Its progressiveness in business is mirrored by its social attitudes, and it's no surprise that Austin also embodies a very present and diverse LGBT community. In  2012 Austin tied those threads together by forming a new chapter of StartOut, the national organization for advancing entrepreneurship in the LGBT community. StartOut focuses on the entrepreneurial ecosystems around scalable, high-growth LGBT-founded businesses. It's the first StartOut chapter away from the coasts, and it's off to a roaring start with three successful events in 2012 and six planned for 2013.
StartOut promotes equality by providing positive role models, such as successful LGBT entrepreneurs, for the overall community, connecting LGBT business mentors with budding entrepreneurs, and offering educational tools to help aspiring LGBT entrepreneurs successfully start and grow their own businesses. StartOut works to end discrimination against LGBT persons in the business community by helping foster a new generation of business founders and CEOs, and thereby breaking through the barriers that currently inhibit the corporate success of many in America's LGBT community.
Austin is a natural fit for a StartOut chapter and it's rapidly developing a substantial presence among the startup ecosystem. To get involved with StartOut in Austin, please contact Michael Witbrock at michael.witbrock@startout.org. To view our upcoming Austin events, please visit StartOut's website.