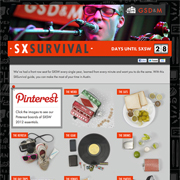 Are you attending your first SXSW Festival this year? You know that fun little music festival with a few bands and a small crowd of folks. If this is your first SXSW Festival, we encourage you to read up a little. GSD&M just released their SXSurvival Guide. A survival guide?? If this any indictor of how crazy this festival can get, maybe it's time to lace up your boots and start planning South by Southwest 2012!
As it gets closer to SXSW2012, we'll share any links we come across that will help guide you through the festival. Have you come across any websites worth sharing?
3. Trover Mobile App – "Trover will serve as an authoritative visual guide for remarkable things to see, do, eat, and experience at South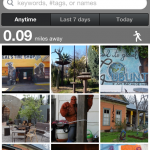 by Southwest (SXSW) in Austin, Texas, March 9-18, 2012. Trover is the perfect app to discover fun things to do and see at SXSW in an instant. The interface shows off Austin's hidden gems and local charm in an interactive photo mosaic while providing users directions on how to get there." –article
4. RSVPster– For $30, RSVPster will RSVP you and a friend to every unofficial South by Southwest party.